This all natural pink lemonade with black wolfberries is not only tasty and gram worthy, it's also packed with nutrient and immune boosting antioxidant and vitamins! It's tangy, sweet, and lemony, the perfect drink for the summer and any other season!
Recently, we found these black wolfberries (黑枸杞) at our local asian market and was totally intrigued. I've known all my life that goji berries are a superfood and packed with nutrients because Mom would find every chance to incorporate some into our food. So this started our research into black wolfberries and guess what we found?
Not only are these black wolfberries even more nutritious than the common red gojis, it's a valuable ingredient in Chinese medicine and there's a whole list of benefits attached to it. And the most intriguing part of our research was of course the beautiful color this berry produced when brewed!
When brewed properly, these black wolfberries makes a beautiful blue tea that turns a stunning pink when an acid is incorporated. Ding ding ding! Yes! The bells just went off in our brains! This tea would make the perfect pink lemonade that's 100% all natural and extra beneficial!
I gotta say, this all natural pink lemonade can't get any better than this and is perfect for the summer!
Now let's dive into some tips and Q&A about black wolfberries and lemonade making!
What are black wolfberries?
Black wolfberries, also known as black goji berries, is a superfood and a cousin to the commonly seen red gojis. Although both berries are highly valued in Chinese medicine, black wolfberries are more commonly found dried and sold as herbal tea. When steeped, black wolfberries, turn a beautiful shade of blue, then violet, and lastly a deep purple.
What does black wolfberries taste like?
Unlike it's cousin, the red goji berries, black wolfberries taste more berry-like with a bit of tang, fruitiness, and sweetness. Just imagine dried cranberries and blueberries morphing, it's pretty tasty!
What are some black wolfberry health benefits?
As mentioned, both goji berries are valued in Chinese medicine. However, the black wolfberries are known to be packed with even more nutrient and health benefits than the common reds. Black wolfberries are thought to aid in digestion and settling stomach discomforts, maintaining cholesterol, relieving some menstrual and menopausal symptoms, and maintaining eye health. And because black wolfberries are filled with antioxidant and vitamins, wolfberries also supports and boosts the immune system.
Granted, I am not licensed to claim these benefits, I am convinced that black wolfberries have some very beneficial properties.
How do I properly brew black wolfberry tea?
The most common and easiest way to add black wolfberries to your diet is by making tea! Although, you most definitely can add it to both savory and sweet dishes.
To properly brew black wolfberry tea:
Use water between 122-140F (50-60C), best at 135F (57C). This is the most important tip for brewing wolfberry tea. You must brew the black wolfberries at a proper temperature to achieve the vibrant color, infuse flavor, and extract nutrient.

If the water is too cool, you will not get much flavor or color from the berries. If the water is too hot, the the berry's nutrient will be destroyed and the tea will be a dark brownish color.
Steep for 3-5 minutes. In this case, the black wolfberries are like any other tea. The longer the berries are steeped, the darker the tea will be. However, if the black wolfberries are steeped for too long, it will turn a dark brownish color rather than a vibrant or deep blue. So make sure to strain and remove the black wolfberries after your desired color has been reached.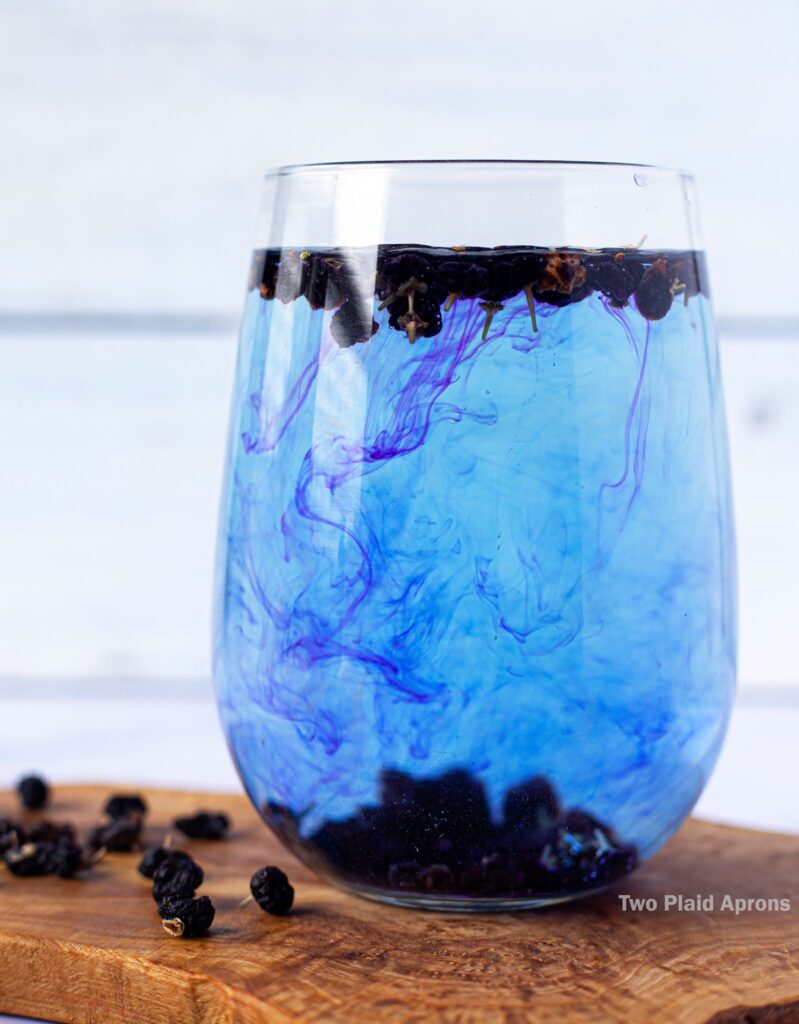 Use about 8-10 pieces of black wolfberries per ½ cup (150mL) of water

. You can of course use more berries if you like, but 8-10 pieces is suggested  for an average cup.
Can I use the black wolfberries more than once?
Yes! You can absolutely reuse the black wolfberries and brew it an additional 2-3 times. However, as any other teas, both the color and the flavor of the wolfberries will be lighter every time it's reused.
Why does wolfberries turn pink?
One of my favorite characteristic of black wolfberry teas is that it turns pink with the addition of an acid! The color changes from a vibrant blue or deep purple to beautiful purplish pink or violet. It is just amazing. This happens because acids, like lemon juice, changes the pH level of the black wolfberry tea, which changes the color. And depending on the amount or the concentration of acid added, the tea turns into different shades of pink!
How do you make lemon syrup?
For our lemonade, we love to start by making some homemade lemon syrup. All you have to do is thinly slice some lemon and simmer it with some sugar and a small amount of water until the lemon pith is kind of translucent. Not only does the lemon becomes totally edible, it makes the best lemon syrup with a strong lemony flavor!
If you don't care for the lemon pith, you can totally do without it. Simply zest and juice the lemon and simmer it will the same amount of sugar and water. But, in this case, you can reduce the amount of water use since you have lemon juice.
How do I store the lemon syrup?
Yes! If you have extra lemon syrup or if you wish to make the lemon syrup ahead of time, you can make the syrup as is, let it cool at room temperature, then store it in an airtight container or jar. The lemon syrup will be good in the fridge for up to 2 weeks.
How is pink lemonade made?
The first pink lemonade is said to have been made accidentally when some red cinnamon hard candy was dropped into lemonade. But if you want to make pink lemonade naturally, many people have use red fruits and juices to achieve the pink hue. Most commonly, strawberries, beet, and cranberry juice is used for coloring.
For our pink lemonade, we used black wolfberries to naturally achieve a beautiful, vibrant pink that's full of health benefits, tasty and totally worth the gram.
If you're looking for other summer drink recipes, you make like these:
Cook with love!
Mei
If you've made this recipe or any recipe from our blog, please tag us on Instagram @two_plaid_aprons! We would love to see your creations! It absolutely makes our day! 🥰
📖 Recipe
All Natural Pink Lemonade with Black Wolfberries
This all natural pink lemonade with black wolfberries is not only tasty and gram worthy, it's also packed with nutrient and immune boosting antioxidant and vitamins! It's tangy, sweet, and lemony, the perfect drink for the summer and any other season!
Ingredients
For the lemon syrup:
2

lemons

, thinly sliced

1½

cup

granulated sugar

(or your preferred sugar)

½

cup

water
For the Wolfberry tea:
2

Tablespoon

black wolfberries

(about 108 dried berries)

9

cups

hot water

(between 122-140°F, best at 135°F)

Ice cubes

(optional)

Club soda or sparkling water

(optional)
Instructions
For the lemon syrup:
Place the thinly sliced lemons in a medium sauce pan with the sugar and water. Bring the lemon syrup up to a boil then lower the heat to gentle simmer. Cook the lemon in the syrup until the lemon's pith turns kind of translucent and the syrup aromatic.

Pour the lemon syrup into a storage jar or container and let it cool to room temperature or chill completely overnight in the fridge.
For the Wolfberry tea:
Steep the wolfberries in hot water, between 122 to 140°F, for about 3-5 minutes. Make sure to check the temperature because if the water is too cool, the berries will not release any color, and if too hot, you'll lose the berries' nutrients.

The tea can be brewed ahead of time, strained, and chilled in the fridge overnight.

*We recommend steeping the berries no more than 5 minutes because the longer the berries are steeped, the darker the tea will become and will turn blackish brown, rather than a vibrant purplish blue.*
For the pink lemonade:
In a glass, place your desired amount of lemon syrup with lemon pieces. Gently, pour the brewed wolfberry tea into the glass. Stir and enjoy!

You can add ice cubes to the drink, if you wish. If you prefer a bubbly pink lemonade, you are welcomed to substitute part of the wolfberry tea for club soda or sparkling water.
Notes
*If there's leftover lemon syrup, store it the fridge in an airtight container, for up to 2 weeks.
Equipments Recommended
Nutrition
Calories:
306
kcal
|
Carbohydrates:
80
g
|
Protein:
1
g
|
Sodium:
21
mg
|
Potassium:
75
mg
|
Fiber:
2
g
|
Sugar:
76
g
|
Vitamin C:
29
mg
|
Calcium:
25
mg
Keywords:
gogi berry, lemonade, pink lemonade, summer drink