It's Chinese New Year, and the new Asian market near us is STOCKED with produce, fresh seafood, all kinds of meat, and tons of new year snacks. This means that we, lucky residents that live close to the market, can go on the best food-shopping-spree and buy Asian ingredients that's usually hard to come by! We thank the lord from the bottom of our hearts! 🙌
To express our gratitude, Kyong and I decided cook with an uncommon item.
Yes, you guessed right...razor clams! Specifically, Asian Style Razor Clams!
We chose razor clams because it's rare for us to find it here in Louisiana, especially live ones, and these babies were beautiful! When cooked simply, razor clams are slightly sweet with a touch of briny-ness and have a very nice, fresh seafood flavor. If you love shellfish, this one is a must-try!
What are razor clams?
Razor clams or some times known as bamboo clams, are slim and elongated, rather than flat and rounded like oysters and scallops (although there is the Pacific razor clams which are a bit wider and rounder in shape).
Between you and me, my favorite part of the razor clams is the "foot," which is a piece of muscle that extends and contracts out of their shells, and in my opinion, the tastiest part.
How to clean razor clams?
If you've eaten any kind of clam before, I'm sure you've encountered a few unpleasant sand crunches. To have sans sand clams, I recommend that you always purge your live clams. Purging will help the clams spit/ filter out sand and dirt from inside their shells.
To purge, soak clams in a salt water solution (1 pound of clams: 2 quarts of room temperature water: 3-4 Tablespoons of salt). Clams should be soaked for a couple of hours, minimally 30 minutes.
In addition to purging, razor clams have a large gut (looks like a black pouch) that may contain sand and dirt, which you can remove prior to cooking, or you can discard while eating. (I personally couldn't bring myself to gut the clams while it was alive so I just discarded the guts after it's cooked. 😅)
To remove the gut, open the shell with your finger and locate the black pouch. Use a scissor to trim it off.
*I recommend removing the gut right before you cook the clam to retain as much freshness as possible.*
Ingredients needed to make this Asian Style Razor Clams:
Ginger: to keep the seafood flavor pure
Garlic: because garlic makes everything taste good 🤤, plus it's like the pope of asian cooking!
Rd pepper flakes: to add a little kick, but if you want, you could do without...but it's a really nice addition!
Razor clams: cuz they're the stars!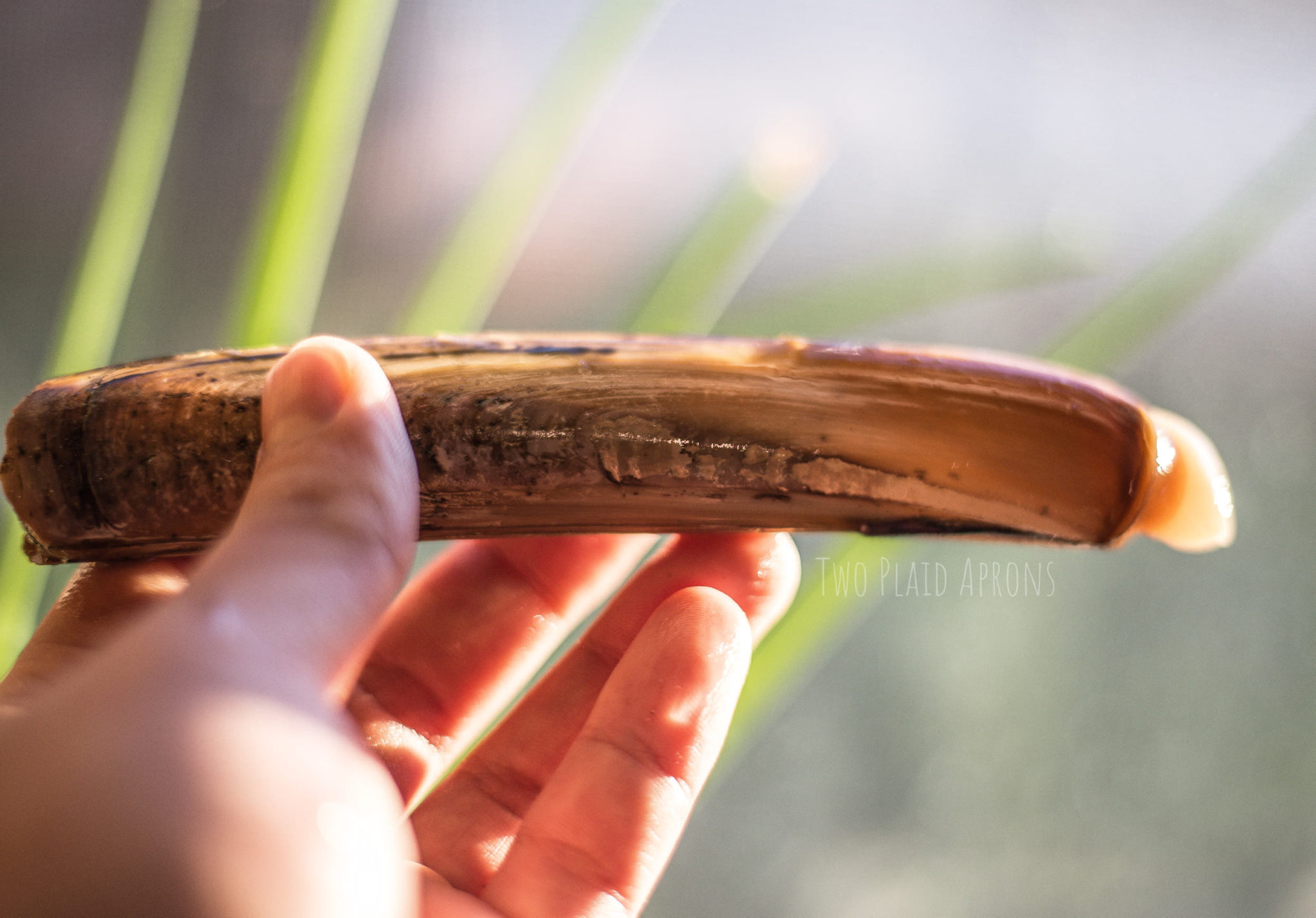 Behold the razor clam!
Shao Xing cooking wine

or dry sherry: enhances and keeps the seafood flavor pure. Plus it adds a really nice aroma!

Dry white wine: If you don't have either wine, it is perfectly fine to substitute it for a dry white wine. It will only alter the flavor slightly, but still taste just as good!

Lemon juice: adds a nice acidity to contrast the natural sweetness of seafood
Water: additional liquid needed to finish cooking/ steaming the razor clams
Salt: to season the sauce
Unsalted butter: yes, I know...butter is not Asian, but it's the secret to turning leftover juices into a great sauce. Plus, IT IS DELICIOUS!
Green onion: for garnish
Let's make some yummy Asian Style Razor Clams!
**For this dish, I recommend using a wide sauté pan instead of a tall saucepan so that the clams can cook evenly.**
 Sauté aromatics. In a medium size sauté pan, add a small amount of oil and sauté minced ginger, minced garlic, and red pepper flakes over medium high heat until aromatic.
*Don't burn the garlic or it will be bitter!*
Deglaze the pan. Add the wine and let the the alcohol cook off slightly (just a few seconds).
Cook clams. Add the razor clams, water, lemon juice, and salt and cover the sauté pan with a lid to steam the clams, about 3-5 minutes, or until the shells are wide open (this indicates that the clams are cooked).
- Give the sauté pan a shake or two in the middle of steaming to incorporate the clams' natural juice to the sauce and the sauce to the clams.
Add butter. Once the clams opened up and are just cooked, add cold butter. Use a spoon to swirl it around the pan to create a sauce. Add sliced green onions and adjust the salt level at this time if you wish.
Enjoy with warm bread! Serve the clams immediately with warm french bread or the sauce soaker of your choice!
- Remember if you did not remove the guts prior to cooking the clams, just discard the section when eating.
Cook with love!
Mei ❤️
P.S. I hope you guys enjoy this recipe and may 2020, year of the rat, bring you all more wealth, better health, and growing prosperity!
📖 Recipe
Asian Style Razor Clams
This razor clam dish is kept simple to let the fresh seafood flavors shine, while the aromatics keep you soaking up the sauce with bread!
Ingredients
1

Tablespoon

oil

(neutral)

2

Tablespoon

garlic, minced

(about 6 cloves)

2

Tablespoon

ginger, minced

(2 inch knob)

1

teaspoon

crushed red pepper flakes

(or to taste)

⅓

cup

Shaoxing rice wine

(or dry sherry)

1

pound

live razor clams

(purged)

½

cup

water

1

Tablespoon

lemon juice

¾

teaspoon

salt

(or to taste)

6

Tablespoon

unsalted butter, cold

Green onion

(optional for garnishing)
Instructions
Saute aromatics.

Add oil into a medium sauté pan over medium high heat. Add minced garlic, ginger, and red pepper flakes and cook until aromatic, about 1-2 minutes.

Add the Shaoxing wine or sherry to deglaze the pan. Let it simmer for a few seconds to cook off some alcohol.

Cook clams.

Add the razor clams, water, lemon juice, and salt and cover the pan with a lid. Let it steam for about 4 minutes, or until the shells are wide open and the flesh turns opaque.

* Shake the pan a couple times half way through steaming to shake up the sauce. Keep the lid closed the entire time.*

Add butter.

Once the clams are wide open, add cold butter to the pan and swirl it around with a spoon to create a sauce. Remove from heat.

**You can adjust the salt level and add the green onion at this time if you wish.**

Enjoy with warm bread!

Serve the clams immediately with warm french bread or your favorite sauce soaker!
Notes
To purge, soak the razor clams in a salt water solution (3 Tablespoon of salt to 2 quarts of room temp. water) for at least 30 minutes.
Razor clams have a large intestine pouch that can be removed prior to cooking. If you do not wish to remove pouch prior to cooking, simply discard the section when eating.
Equipments Recommended
Nutrition
Calories:
169
kcal
|
Carbohydrates:
3
g
|
Protein:
3
g
|
Fat:
15
g
|
Saturated Fat:
8
g
|
Cholesterol:
35
mg
|
Sodium:
551
mg
|
Potassium:
51
mg
|
Vitamin A:
549
IU
|
Vitamin C:
2
mg
|
Calcium:
17
mg
Keywords:
bamboo clams, razor clams, simple razor clam recipe