Fresh kimchi, or geotjeori (겉절이), is made to be eaten without any necessary fermentation. It tastes savory with a vibrant spiciness and a light sweetness from the still fresh napa cabbage.
If you ask me what type of kimchi is my favorite to eat, my answer will always be geotjeori. There's just something about the fresh sweetness of the cabbage that just can't be compared to the sour, fermented kimchi. If you've never tasted fresh kimchi before, you have to try it! It tastes totally different than the regular fermented kimchi you can purchase at the Asian markets. I promise. If you enjoy the classic fermented kimchi, you'll love geotjeori even more!
Fresh kimchi (geotjeori - 겉절이) vs. regular baechu kimchi
The most important takeaway from this recipe is knowing the difference between geotjeori, or fresh kimchi, and regular/ traditional baechu kimchi (napa cabbage kimchi). Both versions of the kimchi are made with napa cabbage. The difference is mostly based on how the two kimchi are prepared.
Geotjeori kimchi is made with the purpose of being enjoyed fresh, meaning that it should be consumed within 7 days. This type of kimchi tastes fresh with sweet notes from the vegetables and a vibrant spiciness. And because geotjeori is meant to be eaten fairly quickly, the napa cabbage is cut into a smaller pieces when it's being made, both for convenience and a shorter preparation time.
On the other hand, regular kimchi (baechu kimchi) is made to last a much longer period of time, although it can be enjoyed right away, like geotjeori. This kimchi tastes fresh and sweet in the beginning, but as it sits and ferments, it will become acidic, which is perfect for soups and stews. Because this type of kimchi is meant to last longer, it's prepared with quartered napa cabbage, like this traditional napa cabbage kimchi. The purpose of preparing the cabbage quartered, and not loose, is so that fermentation occurs at a slower pace.
The perfect napa cabbage
Picking out the perfect napa cabbage for kimchi making is just as important as properly salting and seasoning the kimchi. As any dish, if you start with great ingredients, you'll finish with a great dish. So, when you're picking up your head of napa cabbage, look for a head that's heavy for its size. This will indicate how fresh the napa cabbage is and how full and hearty it is inside. A large head of napa cabbage that feels light indicates that the cabbage is a bit empty on the inside and has probably sat on the shelf for longer than you'd like.
The other characteristic I look for in a good napa cabbage is the color, although this can be more of a personal preference. I personally prefer napa cabbages that have yellower leaves rather than green. Green leaves are usually a bit tougher and chewier, while the yellow leaves tend to be more tender and the stalks tend to be slightly sweeter. So it's really up to personal preference in terms of color and if you care if your cabbage has a bit more chew. It won't make the kimchi any less perfect.
How salty is salted enough?
Ranking right below the importance of choosing the perfect napa cabbage for kimchi is whether the napa cabbage is properly salted. The salting process when making kimchi is normally for preserving the cabbage and removing excess water content from the stalks of the cabbage. If the cabbage is not salted enough, the kimchi will not ferment properly and spoil. However, for geotjeori, the salting process is more for flavor than for preservation, but the process for determining whether the cabbage is salted enough is the same as traditional kimchi.
To determine whether the napa cabbage is salted enough, rinse a piece of the stalk with fresh water for a few seconds, then squeeze the cabbage gently to remove excess water. taste the napa cabbage stalk, and if it tastes well seasoned with nice hint of sweetness, the cabbage is salted enough. If the cabbage doesn't taste well seasoned, flip the cabbage, top to bottom, and let it sit for another 20-30 minutes before giving it another tasting.
Cleaning & rinsing napa cabbage
Unlike traditional kimchi where the napa cabbage can be rinsed leaf by leaf, geotjeori requires an unorthodox way. We found that it's easiest to clean the napa cabbage in a large bowl of water after cutting the cabbage into 1 inch pieces. Just fill the bowl with enough water to let the cut cabbage float and give it a few good splashings then a few seconds to let any dirt or sand sink the to bottom. At this point, I like to fish the cabbage out and into a colander to drain, then repeat the process a one or two more times.
For rinsing the napa cabbage, after the salting process, I recommend draining the napa cabbage of the salt water first. Then, fill the bowl with fresh water and give the napa cabbage a few gentle rubs between your hands. Drain the water and repeat the rinse a couple more times with fresh water, until the cabbage are perfectly salted and all the excess salt are removed. For the last rinse, grab a comfortable handful of the napa cabbage and give it a gentle but firm squeeze to remove some excess water. Not removing enough of the excess water will make your kimchi watery.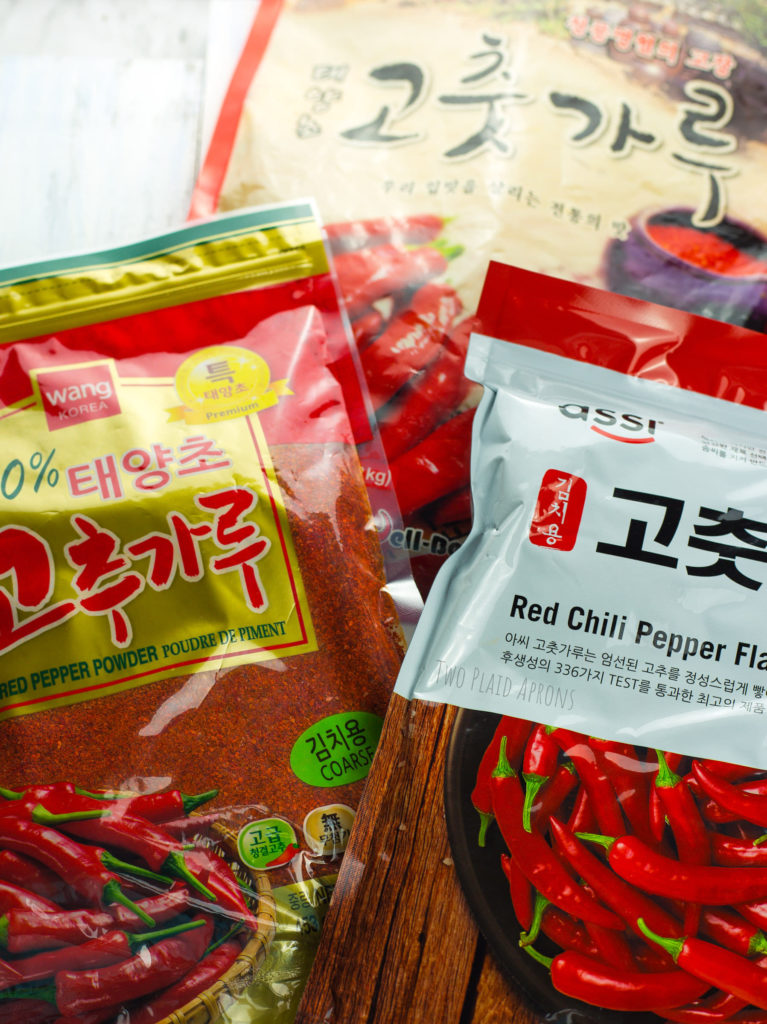 Gochugaru
What is gochugaru? Gochugaru is simply a Korean red pepper flake used in almost any cooking to help spice things up. It is especially popular for making kimchi. In most Asian markets, gochugaru is sold in fine ground and coarse ground form. We highly recommend the coarse ground one because the fine ground is just simply too fine for kimchi making.
If you read through the recipe, you've probably wondered why the recipe calls for half of the gochugaru to be added to the blender while the other half gets added to the kimchi paste later. Well, the reason some gochugaru is blended with the rest of the kimchi paste ingredients is because this method helps make the kimchi paste more vibrant red and also help incorporate the flavor of the pepper flakes more. The remaining gochugaru added to the mix is mostly for adding more spice to the kimchi.
Salted fermented shrimp (saeujeot) & fish sauce
First of all, what is saeujeot? Saeujeot, also known as salted fermented shrimp, is a brine of tiny salty shrimps. This condiment is a popular Korean substitute for salt in soups, stews, and kimchi, it adds natural umami and the salt needed in dishes. So then the question is, are both saeujeot and fish sauce necessary for kimchi? The answer is no.
You can use either only one or the other, as long as the paste tastes salted enough. Sometimes, saeujeot simply just isn't salty enough to for making kimchi without making it too fishy. We recommend that if you have to do without either saeujeot or fish sauce, take the fish sauce. Fish sauce has the perfect amount of fishiness to it and is salty enough to replace saeujeot. If you need a recommendation, we highly recommend Three Crabs brand fish sauce.
White rice substitute
The purpose of cooked white rice in this kimchi recipe is mostly to thicken the kimchi paste and make it more adhesive to the napa cabbage. If you've ever made our traditional napa cabbage kimchi, you'll notice that we opted using a rice flour paste in place the the white rice with hot water. So if you don't have any cooked white rice on hand, feel free to substitute the rice with 2-3 Tablespoons of rice flour (regular or glutinous) cooked with half cup of water. Make sure to cook the rice flour until the mixture thickens and turns slightly translucent, then cool to lukewarm before using.
Apple, pear, or sugar
In this kimchi recipe, it calls for an apple (fuji, honey crisp, or gala) to be added to the kimchi paste. The purpose of the apple is to be used as a sweetener in the kimchi paste. So feel free to replace it with an Asian pear or even plain granulated white sugar if you'd rather.
The addition of daikon, buchu, and carrots
If you're wondering if the shredded daikon radish, buchu (aka Asian chives), carrots are necessary in kimchi, the answer is no. You are welcomed to make geotjeori or any kimchi without these extra vegetables. However, these additional vegetables definitely add flavors and some very iconic smell to kimchi. As for shredding the daikon radish and carrots, I highly recommend a trusty mandoline for saving time and making your life easier! Also, if you can't get your hands on any buchu, feel free to substitute it for some green onions.
Fresh kimchi (geotjeori) pairings
Now let's get down to business - what can you eat with geotjeori? Whether you're making geotjeori because you just got a craving or you're making it just to have in your fridge, never miss the chance to pair your beautifully made geotjeori with some of these yumminess!
Boiled pork - a simple, light flavored boiled pork shoulder or pork belly dish to compliment the freshness of geotjeori
Bossam platter - similar to the boiled pork, bossam is pork belly boiled in broth seasoned with soy sauce, doenjang (fermented soybean paste), and other spices and herbs. Eaten with rice and lettuce like a wrap.
Jokbal - braised pig feet
Fresh, raw oysters
Korean BBQ
If you're looking other Korean recipes, you may like these:
Cook with love!
Mei ❤️
If you've made this recipe or any recipes from our blog, please tag us on Instagram using #twoplaidaprons! You can also tag us in your Instagram stories using @two_plaid_aprons. We would love to see your creations! It absolutely makes our day! 🥰
📖 Recipe
Fresh Kimchi (Geotjeori)
Fresh kimchi, or geotjeori, is made to be eaten without any necessary fermentation. It tastes savory with a vibrant spiciness and a light sweetness from the still fresh napa cabbage.
Ingredients
1

head

napa cabbage

(about 2 ½ - 3 lbs.)

Salt

, for salting (about ¼ cup)
For the kimchi paste:
1

cup

gochugaru (coarse)

, divided (Korean red pepper flakes)

½

medium yellow onion

, large dice

½

apple

, large dice (fuji, honey crisp, gala)

10

clove

garlic

1

inch

knob of ginger

, peeled and roughly sliced

2

Tablespoon

saeujeot

(Korean fermented salted shrimp)

2

Tablespoon

fish sauce

2

Tablespoon

white rice

, cooked (refer to post for alternative)

½

cup

hot water
Optional additional vegetables:
1

medium carrot

, peeled and shredded

1

small daikon radish

, peeled and shredded (about 1 lb.)

2

ounce

buchu

, cut into 1 inch pieces (also known as asian chives)
Instructions
Salt the napa cabbage (refer to the post above for tips and picture reference):
Remove any undesirable outer leaves of the napa cabbage, then quarter the cabbage long ways. Remove the core from each quarter and roughly cut the quarters of napa cabbage into ½-1 inch pieces.

Wash the cabbage in cool water, 2 to 3 times, to remove any sand or dirt. Drain and place the washed cabbage into a large bowl. Sprinkle a generous amount of salt over the cabbage and toss in between to disperse the salt. Let the napa cabbage sit for 20-30 minutes, then flip the top cabbage to the bottom and vice versa and let it sit for another 20-30 minutes.

*We used about ¼ cup of kosher salt to salt our cabbage, but it can really vary from one cabbage to another. Also, the amount of salt used can determine how long the salting process will take, so less salt means longer salting time and more salt means shorter salting time.*

Once the second salting period is complete, rinse a piece of the napa cabbage stalks under fresh water. Squeeze out the excess water on the cabbage stalk and taste it to see if it's to your preference of saltiness. If the cabbage is not salted enough, give the cabbage a flip and let it continue salting until desired saltiness has been reached.

*The saltiness is really up to personal preference. We usually let our cabbage salt until it's like a well seasoned vegetable that still tastes sweet. Remember that your kimchi paste will also have some saltiness to it.*

If the cabbage has reached your desired level of saltiness, drain the cabbage, then rinse the cabbage under cool, fresh water to remove the excess salt. Repeat the rinse 2-3 times. Make sure to gently squeeze out some of the excess water after each rinse and squeeze a bit firmer on the last rinse to remove most of the excess water to prevent the kimchi from becoming watery.
For the kimchi paste:
While waiting for your napa cabbage to salt, make the kimchi paste. Combine everything for the kimchi paste, EXCEPT for ½ cup of gochugaru (the Korean red pepper flakes), into a blender. Blender everything together until it's a well combined paste. Don't worry if the paste isn't smooth. Transfer the kimchi paste to a large bowl and add the remaining ½ cup of gochugaru. Mix until incorporated. Set the paste aside until needed.

If you are adding the shredded carrots, radish, and buchu to the kimchi, add it to the paste now. Give the shredded vegetables and the paste a good mix and set aside.

Once the napa cabbage are properly salted, rinsed, and squeezed, add it to the paste and mix until all of the napa cabbage are well coated.

Enjoy the kimchi fresh for up to 7 days or pack them tightly in a clean jar to store and ferment if you have leftovers.
Notes
Geotjeori is meant to be eaten in a short period of time (within 7 days) to ensure its fresh flavor. Once past its prime, feel free to store the geotjeori in an airtight container, in the fridge for up to 3 months. You'll taste the acidity starting to settle in as the kimchi ferments.
When packing kimchi, make sure to tightly pack it to prevent air bubbles, but do leave about 1 inch of space between the kimchi and the top of the lid, as kimchi produces gas as it ferments.
Please refer to our post above for picture references and more tips and tricks for making this geotjeori kimchi. =)
Nutrition
Calories:
312
kcal
|
Carbohydrates:
56
g
|
Protein:
19
g
|
Fat:
10
g
|
Saturated Fat:
2
g
|
Cholesterol:
84
mg
|
Sodium:
1990
mg
|
Potassium:
2072
mg
|
Fiber:
26
g
|
Sugar:
14
g
|
Vitamin A:
21417
IU
|
Vitamin C:
93
mg
|
Calcium:
460
mg
|
Iron:
12
mg
Keywords:
baechu, kimchi, napa cabbage