It's nearing the end of our cold season, so Kyong and I thought we'll take advantage of the last wave of good napa cabbage and make some traditional napa cabbage kimchi! I apologize to all of you that waited a long time for this recipe to finally make appearance on the blog...but it's here!
So let's get started!
What is kimchi?
Kimchi literally translates to pickled vegetables, so you can technically turn any vegetables into kimchi. But that's a story for another day. 😉
Today, we are focused on the most well known kimchi, the traditional napa cabbage kimchi, which is also Korean kitchens' #1 stable. You can find this type of kimchi in most Asian supermarkets in the refrigerated isles.
When napa cabbage kimchi is freshly made, it's spicy, balanced with saltiness and fresh sweetness. As it sits and ferments, the sweetness become acidic and the saltiness becomes less apparent.
Some Tips and FAQs for making traditional napa cabbage kimchi:
Do I have to add the extra vegetables like carrots, daikon radish, and Asian chives?
The answer is no. However, it is recommended that you include these ingredients because they add extra flavor to the kimchi. Plus, it really bulks up the total yield of your kimchi. 😁
Traditionally, daikon radish is cut into match-stick pieces and added to the paste. (This one has been cleaned and peeled).
Sometimes it may be difficult to find Asian chives, or buchu. You can substitute it for green onions, but the flavor will be a little different.
Buchu, or Asian chive, is used often in Asian cooking and gives kimchi a very distinct smell. You'll know when you smell it. 😜
Rice flour paste?
Some recipes may not include rice flour paste for making kimchi. We used to not either. However, we ended up liking this method after trying it out, so we stuck with it. The pro to adding rice flour paste is that it's helpful with applying the seasoning mixture to the cabbage. The con is that it may speed up the kimchi's fermentation process, making it sour faster, as the starch in the rice flour breaks down (according to some people...we don't know the difference since we usually eat it all before all that happens 😬).
Cooked rice flour paste will turn thick and kind of translucent...almost like glue.
Besides the debate on whether to use rice flour paste or not, I've also come across questions regarding the type of flour to use for this paste. I recommend glutinous rice flour (aka sweet rice flour) because that's what's traditionally used. However, regular rice flour works just as well. Just make sure it's cooked before using it. It should get thick and turn kind of translucent when cooked.
Any of these rice flour will do. The ones on the left and middle is regular rice flour while the one on the right is glutinous rice flour.
Side note: Glutinous rice flour (sweet rice flour) does not contain gluten nor do they taste sweet. The names simply refers to the texture after they're cooked (glutinous) and the type of rice they are made from (sweet = short grain rice).
How to properly salt the cabbage:
Once quartered and cleaned, you must salt the napa cabbage leaf by leaf. Yes, every leaf must be salted.
Some people believe that ripping the cabbage by hand helps the cabbage tear at its natural seams rather than cutting through the cabbage and damaging its cells.
Kyong prefers to cut off some of the hard core at the end of the napa cabbage...just something he's done because we don't eat that part. Just make sure to not cut it off entirely so that the leaves can stay intact.
Make sure to salt the entire cabbage, stem to leaf.
This step is very crucial because how well the cabbage is salted not only determines the overall flavor of the kimchi, it prevents the kimchi from spoiling. In a less serious case, not salting properly will accelerate the fermentation process and your kimchi will become sour faster.
After salting all the cabbage, stack them in a large bowl or in a sanitized sink. Cover and weight them down with something heavy to press out water.
Make sure to rotate the cabbage by transfer the ones on top to the bottom and vice versa. Do this every 30 minutes to distribute the salt evenly.
Once the cabbage is salty enough, rinse each leaf with fresh running water. Squeeze out the extra water with your hands and repeat this step once more. Make sure to squeeze out excess water to avoid watery kimchi!
How salty is salted enough?
Taste a piece of cabbage after rinsing it with fresh water. The stem should be salty like it's well seasoned while the leaves should be salty but not unbearable.
How much paste should I rub on the napa cabbage?
You should rub a generous amount of paste on each leaf, but most importantly is that it's an even amount. And don't be afraid to stuff some of that carrots, radish, and chives in there too!
Wrap the napa cabbage onto itself to keep it tight.
What can I store the kimchi in?
I always recommend storing kimchi in a sterilized glass container of some sort, however, BPA free plastic containers are fine.
We usually use the gallon size kimchi jars that kimchi comes in at the Asian market, but wide mouth mason jars works just as well.
To sterilize: either boil the glass jars in a pot of boiling water for 10 minutes or flip the jars upside down in a pot of boiling water (the opening of the jar in the water) and "steam" for 15 minutes.
Can I substitute Korean pears for regular pears?
Yes. You can substitute the Korean pear in the recipe for any pear you'd like, however, that may change the thickness of your paste. So be aware that you may need to added a splash of water to thin out the paste.
The reason we recommend using Korean pears is because they are much more juicy and tastes sweet and fresh compared to regular pears. In this recipe it substitutes the need to add sugar. So essentially, you could skip the pear and add sugar if you rather. We have also tried subbing the pear for a juicy apple, and it turned out fine.
Can I use regular pepper flakes?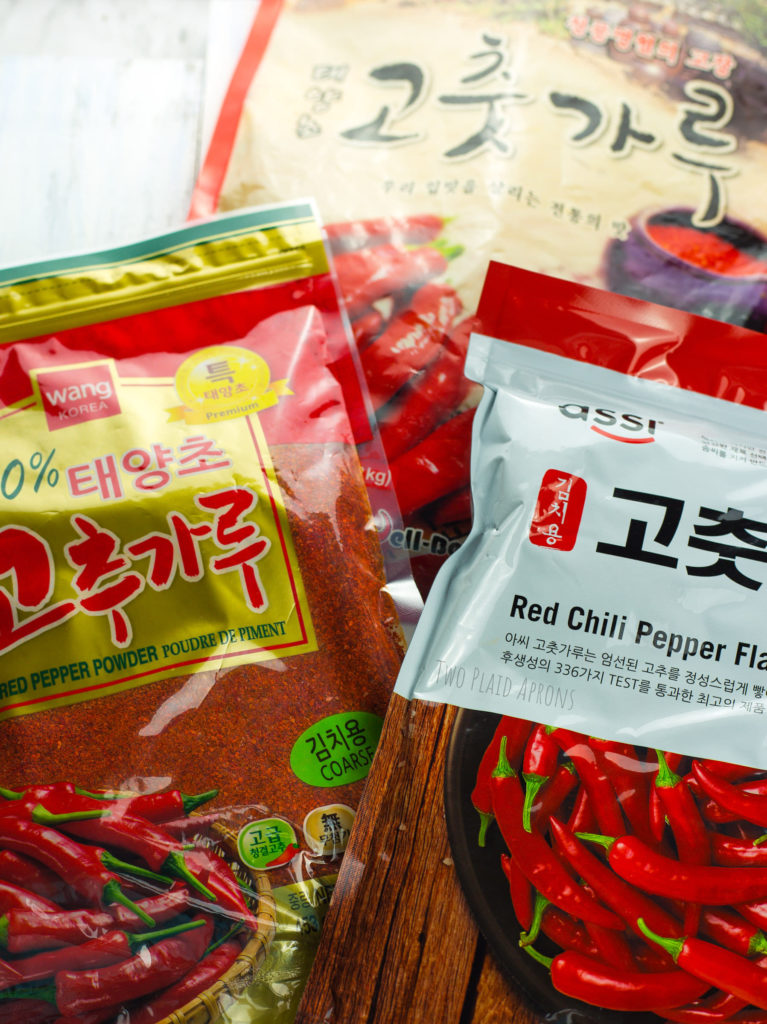 Unfortunately, no. Korean red pepper flakes (gochugaru) has a very particular taste and is made specifically for making kimchi. Do make sure to purchase the coarse ground Korean red pepper flakes.
How much kimchi should I stuff in a jar and can I can it?
You should pack the kimchi tightly together when you store it in a jar. The less air bubble, the slower the kimchi will ferment. However, that doesn't mean you should pack the jar to the rim! Leave about ½ to 1 inch space from the rim.
The reason we don't can kimchi is because it builds up gas as it sits and ferments. Hence, if you pack the jar completely to the rim and seal it off...you might get an explosion or a pretty impactful shot from the lid. The lesser consequence would be a kimchi overflow (the cabbage and juice) the moment you crack that lid open.
Yeah, you don't want that...😣.
What is salty fermented shrimp?
Literally, it's shrimp fermented in a salty brine. Most Koreans like to use it as salt substitute and an extra dose of umami. You can usually find this in the refrigerated isles of Asian supermarkets.
How do I eat kimchi?
Eat it however you like...literally! There are so many ways you can eat kimchi, you shouldn't limit yourself to what I recommend. But if you are new to this Korean essential, let me give you a few ideas to get started.
Eat it as is. Kimchi is a great classic banchan to enjoy with the main dish you're making tonight! Kimchi tastes especially good fresh when it's just made. Some people don't eat kimchi if its over 3 days old, but you don't have to be so extreme. It should taste fresh for 1-2 weeks.

I love eating fresh kimchi with just rice, so of course, japgokbap (Korean multigrain rice).
It's also a great addition to bibimbap, aka Korean mixed rice bowl.
Koreans also love to eat fresh kimchi with boiled pork belly that's seasoned with soy sauce, ginger, garlic, and other spices.
One of Kyong's and his family's favorite snack is to eat fresh kimchi with fresh oyster. Give it a try!

Add it to ramen. Yes! I love fresh or semi fresh kimchi in ramen! It'll change your whole ramen experience. 😉 Should I make a post on how I make my ramen? (Let me know via comment!)
Make kimchi jigae (kimchi stew). Once the kimchi ferments for a bit and turns acidic, it's great for making soups and stew. One of my favorite is kimchi jigae, which have kimchi, pork belly (or other other cuts of pork), and tofu.
Cook with love!
Mei ❤️
If you made this recipe or any recipe from our blog, please tag us on Instagram @twoplaidparons! We would love to see your creations! It makes our day 🥰
Traditional Napa Cabbage Kimchi
Kimchi is a a very popular Korean side dish eaten with meals or added to dishes for flavoring. It's spicy, salty, slight sweet, and is believed to be good for gut health and digestion.
Ingredients
2

heads

napa cabbage

(large heads)

Kosher salt

(for salting)

1½

cup

water

⅓

cup

rice flour

, regular or glutinous or sweet

20

cloves

garlic

2

inch

knob of ginger

, peeled and sliced

1

Korean pear

, peeled and roughly chopped (discard core)

1

large onion, large diced

⅓

cup

fish sauce

2

cups

gochugaru

, can be adjusted to your preference(Korean red pepper flakes)

2

Tablespoon

saeujeot

(Korean fermented salted shrimp; refer to post for reference)

1

small daikon radish

, julienned or shredded (about 2 lbs.)

1

medium carrot

, julienned or shredded

4

ounces

Asian chives

, cut into 1 inch pieces
Instructions
Clean and salt napa cabbage.

Remove all bad outer leaves of the napa cabbage. Cut the napa cabbage into quarters, long ways. Wash and rinse in between every leaf of the cabbage to remove dirt.

Optional: Cut away majority of the thick core at the bottom of the napa cabbage, just enough for the leaves to stay intact.

Clean and sanitize sink or wherever you choose to salt the cabbage.

In between each leaf, generously salt the cabbage from the root of the stems to the leaf tips. Repeat with remaining napa cabbage.

Once all salted, arrange cabbage in a clean sink or large bowl. Cover and weigh the cabbage down with something heavy.

Rotate the cabbage by transferring the ones on top to the bottom, and the bottom to the top every 30 minutes, for 1½ to 2 hours.

Make paste.

While waiting for the cabbage to salt, make the kimchi paste.

Stir together water and rice flour in a saucepan. Over medium high heat, bring it to a boil, stirring occasionally. Turn down the heat to a simmer until the mixture is thick and looks kind of translucent. Make sure to stir every so often to prevent the bottom from burning, about 5-6 minutes. Remove from heat and transfer to a mixing bowl to cool.

In a blender, add garlic cloves, ginger, Korean pear , onion, and fish sauce. Blend until smooth.

Add Korean pepper flakes, salty fermented shrimp, and the blended mixture to the rice flour paste. Mix until thoroughly combined.

Add julienned daikon radish, julienned carrot, and Asian chives to the paste. Mix until combined.

Rinse the napa cabbage.

Once the salting time is up, rip off a small piece of the cabbage and rinse it under water. Taste the cabbage to see if it's salted enough. The stem should taste well seasoned while the leaves should be salty but not unbearable.

If the cabbage tastes good, rinse the entire cabbage and between each leaf. Squeeze out the water with your hands. Repeat this process again. Make sure to squeeze out most of the excess water. Repeat with remaining cabbage.

If the cabbage is not salted enough, let it continue the salting process for another 30 minutes to 1 hour. Proceed with the rinsing process once they are salted enough.

Rub the paste onto the napa cabbage.

Once the cabbage has been rinsed, rub down each leaf with the paste. After the entire cabbage has been rubbed down, fold the cabbage onto itself to keep it tight. Repeat with remaining cabbage.

Pack kimchi into sterilized glass jars or BPA free plastic containers. Make sure to pack the kimchi tightly in the container. However, do not over pack. Leave at least ½-1 inch space to prevent the lids from popping off. *Kimchi releases gas as it ferments.*

Enjoy!

Enjoy as is, chilled, or cooked in a dish!
Notes
I highly suggest using disposable gloves when slathering on the kimchi paste!
You can adjust the Korean red pepper flakes amount to adjust your kimchi's spice level.
Keep kimchi refrigerated to slow down fermentation. Kimchi will taste fresh and sweet for a week or two. This is best for fresh consumption. Once it starts developing a fermented sour taste, it'll taste great in a soup or stew.
Kimchi is known as a superfood in Korean culture because it promotes good gut health and assists with digestion.
Nutrition
Calories:
602
kcal
|
Carbohydrates:
112
g
|
Protein:
33
g
|
Fat:
19
g
|
Saturated Fat:
3
g
|
Cholesterol:
84
mg
|
Sodium:
3827
mg
|
Potassium:
4258
mg
|
Fiber:
54
g
|
Sugar:
28
g
|
Vitamin A:
40287
IU
|
Vitamin C:
198
mg
|
Calcium:
907
mg
|
Iron:
24
mg
Keywords:
kimchi, korean pickle, napa cabbage