Any other year, I would have only acknowledge the Super Bowl as the time of the year when everyone does last minute grocery shopping, emergency take-outs, and next-day Super Bowl commercials and half-time show rewatches.
This year, thanks to the crew at Kahlura Street Grill (the restaurant Kyong works at; their food is really good! Go try them out if you ever visit Baton Rouge!), Kyong is now a full-fledge football enthusiast from playing in a really intense season of Fantasy Football. And when I say intense, I mean it was so intense that I (a football noob) now understand football like a returning observer (yes, now football educated 😆) .
Since we will be watching the game live, we most definitely will be needing some Super Bowl worthy snacks! First thing that came to my mind is of course some good mac and cheese bites! It's a classic.
These mac and cheese bites are super easy to make, and they are delicious! The inside is soft and cheesy, exactly what you expect of good mac and cheese. The outside is breaded with seasoned panko, so you know that they're going to be crispy (even if you bake them) and full of flavors.
So let's add these bites to your game day menu!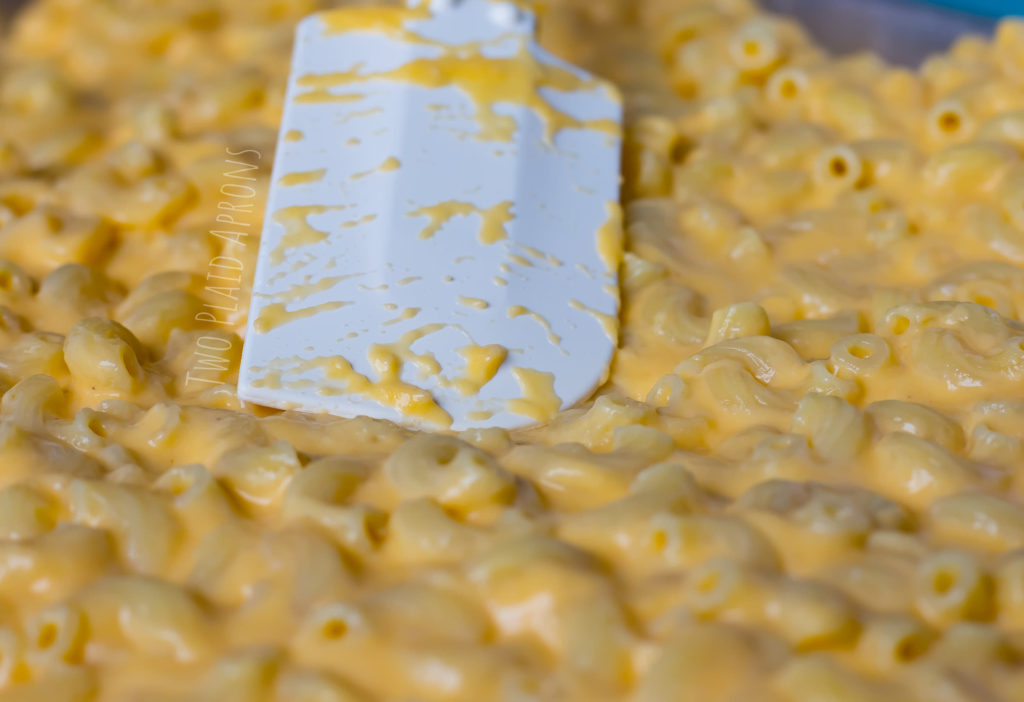 Ingredients to make these bites the ultimate game day snack:
Elbow macaroni pasta: I like the elbow macaronis simply because it's classic for mac and cheese. However, you are welcomed to use other pastas similar to macaroni that holds sauces like:

rigatoni
penne
cellentani

Butter and flour: For the roux! Yes, you can technically do without the roux, but we are doing this the traditional way.
Milk: To make our cheese sauce! You can also substitute the milk for half or all heavy cream. It'll just be richer and nothing is wrong with that! 😉
Sharp cheddar: I use sharp cheddar because it's classic and it keeps the cheddar flavor strong even after adding all that milk or cream.

I've used both pre-shredded and block cheese, and I'm gonna go with block every time unless I'm really in a rush and am willing to sacrifice quality. Although you'll have to grate the cheese yourself, block cheese will make your cheese sauce silky smooth. Versus pre-shredded cheese, while convenient, will make your sauce gritty from all the additives and powder to keep the cheese from clumping together.

Eggs and flour: This will be used in our 3 stage breading process to keep our mac and cheese intact with the crispy, panko.
Panko: This is also a type of breadcrumb, but comparing it to the regular breadcrumbs, panko creates a crisper, lighter crust.
Grated parmesan, garlic powder, paprika, and cayenne: These four ingredients are my go to breadcrumb and crouton seasoning mix. I vouch for it; it's that good. And you can always adjust the amount to your preference.

The parmesan cheese here can be pre-grated since it's dry coating and not going in any sauce. Grated parmesan is sometimes hard to find, so you can buy shredded ones and pulsed it in a food processor a few times to make it finer.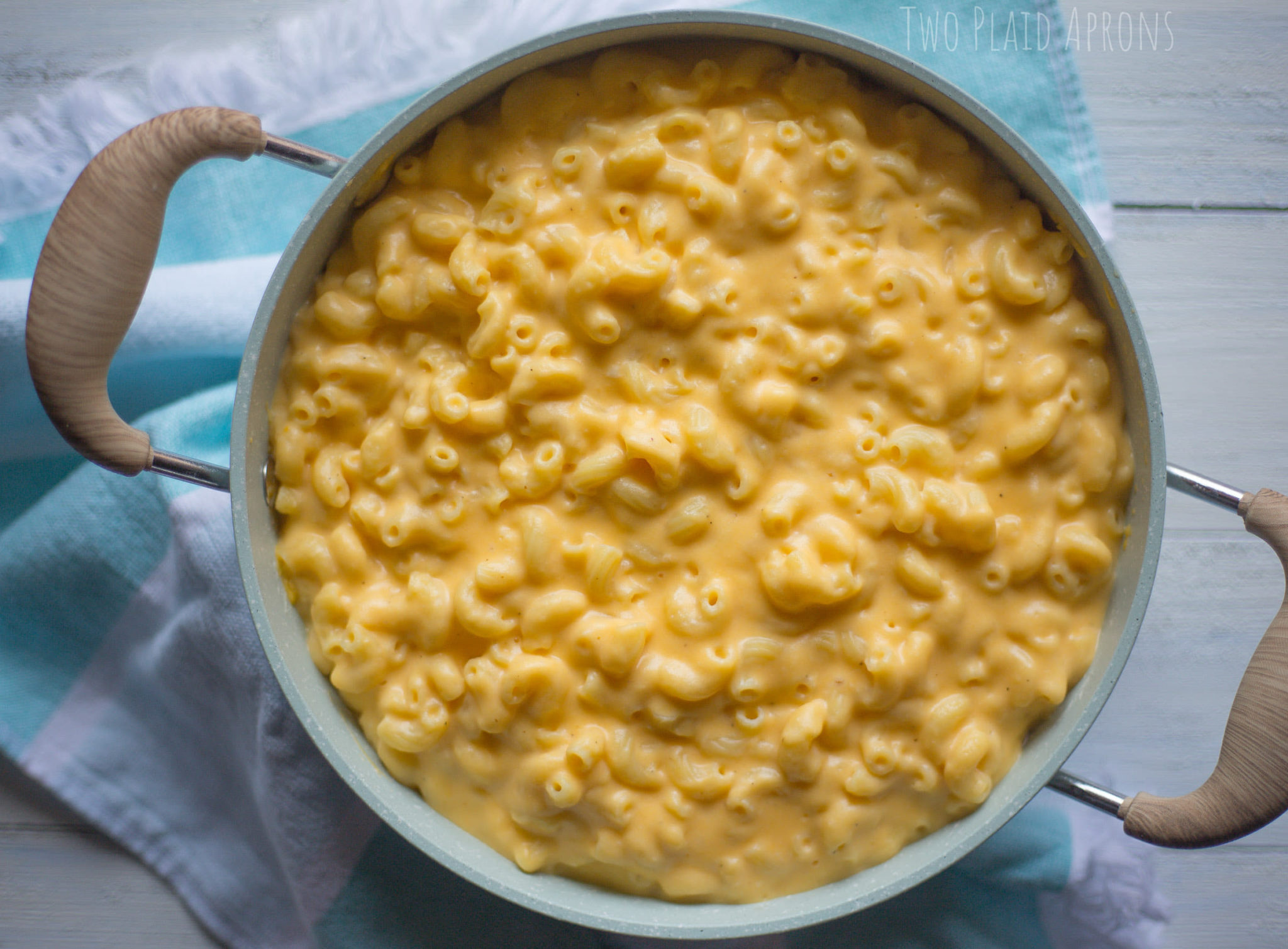 FAQ for these easy mac and cheese bites:
To roux or not to roux?
Yes and no. Traditionally, you want to add a roux to help thicken the cheese sauce. However, if you use less milk or more cheese, you can achieve the same thickness.
If you really detest making a roux, use about ½ - 1 cup less milk in this recipe or amp up your cheese game and add another 8 oz of shredded cheese. However, I do recommend keeping 2-3 tablespoon of butter in for flavor!
If you don't mind the roux, make a white or blonde roux, or something in between. White roux has the most thickening power; the flour and butter is cooked for about 1-2 minutes until the flour no longer tastes raw. Blonde roux still have quite a bit of thickening power, but it is cooked a few minutes longer than the white roux so the color is slightly darker and also has a nutty aroma from the flour being caramelized.
My roux clumped up when I added milk!
Usually, the roux clumps up because a liquid of a cooler temperature is added.
It really is okay if the roux clumps up a bit. Once the liquid, the milk in this case, warms up, the roux clumps will dissolve. However, if the clumps bothers you, you can heat the liquid prior to adding to the roux and add the liquid slowly while whisking it together.
Must I follow the 3 stage breading process?
I really, really recommend the 3 stage breading process (starting with a light dust of flour, follow by a dip in the egg wash, and finished with panko).
The breading process will help the mac and cheese stay intact with the panko breading.
I recommend pre-cutting all of the mac and cheese into 1 inch bite size square and peeling them off the parchment before starting the breading process.
Air-fry, fry, or bake?
You can use which ever method you like!
Although baking is the most convenient, frying's definitely got that golden brown and crispy exterior down. So air-frying is sort of a happy medium between the two. If you are looking for a multi-purpose air-fryer, I do recommend Chef Emeril Lagasse's Air-Fryer (currently our favorite toy besides the Instant Pot).
Whether baking, air-frying, or frying, have the temperature at 375oF.
- Bake on wire racks until golden brown and crispy, about 20 minutes.
- Air-fry on perforate basket for about 15 minutes until golden brown and crispy.
- Fry for about 5-7 minutes until golden brown. Drain on paper towels.
Yes...it was really good! 🤤
Any suggested sauces and condiments?
These mac and cheese bites are really good with marinara sauce and cheese sauce, but surprisingly, it's very good with ketchup as well!
Let me know what other combinations you guys come up with! Would love to hear from y'all!
Cook with Love!
Mei❤️
📖 Recipe
Easy Mac and Cheese Bites
These easy to make, crowd pleaser mac and cheese bites can be mostly prepared the day before and crisped up the day of as the ultimate game-day snack!
Ingredients
For mac & cheese:
1

pound

dry pasta

(elbow, penne, cavapatti, etc)

4

Tablespoon

butter

(or ½ stick)

¼

cup

all-purpose flour

4

cups

milk

(or 1 Qt.)

1

pound

sharp cheddar, grated

(preferably not pre-shredded)

Salt and pepper to taste
For breading:
8

ounces

panko

(about 3½ cups)

7

ounces

parmesan, grated

1

Tablespoon

paprika, ground

1

Tablespoon

garlic powder

1½

teaspoon

salt

½

teaspoon

cayenne, ground

½

teaspoon

black pepper, ground

4

large eggs

¼

cup

water

1

cup

all-purpose flour
Instructions
Make mac and cheese:

Cook the pasta to al-dente in well salted water, as directed on the packages. Drain.

Meanwhile, make the roux by adding the butter into a large saucepan over medium high heat. Once the butter is melted, add the flour and whisk until the roux smells slightly nutty, about 3 minutes.

When the roux starts to smell nutty, whisk in the milk slowly. Heat the milk while whisking occasionally until it's hot and thickened slightly. Turn the heat to low and add the grated cheese. Whisk until all of the cheese are melted.

Add the cooked pasta and mix until the cheese sauce is evenly distributed. *If the saucepan is too small, combine the sauce and the pasta in a heat-proof bowl.*

Chill and cut mac and cheese:Pour the mac and cheese into a parchment lined ½ sheet pan. Spread the pasta out evenly into a 1 inch thick layer. Chill for at least 1 hour or overnight, until the pasta is stiff and holds its shape. *Make sure to cover the mac and cheese when chilling to prevent it from drying out.*

Once the mac and cheese is stiff enough, cut it into 1 inch squares using a knife or a bench scraper. Loosen all the squares from the parchment paper.

Preheat oven, fryer, or air-fryer to 375°F.

Bread mac and cheese bites:

In a large mixing bowl, combine panko, parmesan, garlic powder, paprika, cayenne, salt and pepper. Mix to distribute evenly.

In one medium bowl, beat the eggs with ¼ cup of water for egg wash. In another small or medium bowl, prepare 1 cup of flour.

A few mac and cheese bites at a time, very lightly flour each square. Then coat each lightly in the egg wash. Lastly, toss each square in the seasoned panko. Repeat these 3 steps until all is breaded. *Make sure to shake off excess flour, egg, and panko between each step.*

Bake, fry, or air-fry the bites:To bake: Line the mac and cheese bites, about ½ inch apart, on a wire rack supported by a sheet pan or cookie sheet. Bake at 375°F for about 20 minutes until the outside is golden brown and crispy and the inside is throughly hot.To fry: Fry the bites for about 5-7 minutes until they're golden brown. *Make sure to not overcrowd the fry basket to get a good fry and not cool the oil too much.*To air-fry: Air-fry the bites on the perforated basket, lined ½ inch apart, at 375°F for about 15 minutes or until they are golden brown and hot throughout.

Serve hot and enjoy! These mac and cheese bites are great by themselves and amazing with marinara. They are surprisingly awesome with ketchup as well!
Equipments Recommended
Nutrition
Calories:
1189
kcal
|
Carbohydrates:
116
g
|
Protein:
58
g
|
Fat:
54
g
|
Saturated Fat:
31
g
|
Cholesterol:
254
mg
|
Sodium:
2019
mg
|
Potassium:
678
mg
|
Fiber:
5
g
|
Sugar:
14
g
|
Vitamin A:
2343
IU
|
Calcium:
1205
mg
|
Iron:
6
mg
Keywords:
game day snack, mac and cheese