These honey chrysanthemum shortbread cookies are buttery and tender, with the just right amount of sweetness, and filled with honey and chrysanthemum fragrance. They were stamped with Nordic Ware's Bee Set Cookie stamps that's perfect for honey chrysanthemum!
The other day, Kyong and I tried a honey chrysanthemum tea at our local Asian market and LOVED IT! The tea was nicely sweetened and the chrysanthemum flavor keeps you sipping. It makes you feel like you're on the lightest floral clouds. Yes, lol. That's where most our inspiration for these honey chrysanthemum shortbread cookies came from. The remaining inspiration is all thanks to our lack of self control. 😅 Because...we fell for a set of cute Nordic Ware's cookie stamps. I mean, they were the perfect match for these cookies!
Those shortbread cookies that I keep mentioning are buttery and tender, perfectly sweetened with a hint of honey, and full of chrysanthemum's light floral fragrance. They're like the perfect replica of the honey chrysanthemum tea, except in shortbread cookie form! Yeah, you can bet these are currently our new obsession and favorite cookies. 😁 And bonus, these honey chrysanthemum cookies are perfect to combat the almost unbearable summer heat because chrysanthemums are known to have anti-inflammatory abilities and a good tea to drink to calm nerves.
So yes, we totally recommend these "healthy" cookies because they're so good and help you keep your cool. 😜
If you're looking for other amazing cookie recipes, we highly recommend the following!
Let's dive into tips and FAQs for making these beautiful honey chrysanthemum shortbread cookies!
What are chrysanthemum's health benefits?
Throughout east Asia, chrysanthemum have been utilized for for centuries because of its anti-inflammatory abilities. It is also associated with helping lower cholesterol and blood pressure.
Granted, I am not qualified to claim these benefits, but I am a believer in its effect of being able to reduce inflammations. Whenever I complain about an ailment related to stress, acne breakouts, or agitation, mom would always brew me a thermo of chrysanthemum tea. (Yes, moms are the best!) And mind you, that tea always worked magic because chrysanthemum is known to be on the cool side of the spectrum in Chinese medicine. So when your body is inflamed (on the hot side of the spectrum), chrysanthemum can help balance the "heat" in your body. If you have an Asian friend, you now what I mean. 😉
Although chrysanthemum is great for reducing inflammations, Asian moms would also warn you to avoid chugging/ eat too much of it because it can make your body too "cool." Lol, yes. All the hot and cold balancing stuff haha.
What kind of chrysanthemum do I use?
We used culinary grade dried chrysanthemum flowers and grounded them up until they're fine enough to pass through a sifter. You can also grind the chrysanthemums in a blender or spice grinder if you prefer. If you have chrysanthemum tea bags, you are welcomed to use those as well.
I do recommend that you sift the ground chrysanthemum through a fine mesh sieve before using just in case there are some undesirable large chunks.
What does chrysanthemum taste like?
To us, chrysanthemum tastes kind of sweet with notes of honey, light herbal fragrance, and sweet floral aroma that lingers on your tongue even 10 to 20 seconds later. Just imagine walking into a sunny field full of spring flowers while smelling honey. It's pretty soothing.

What is shortbread cookies' texture?
Shortbread cookies, being made with only flour, butter, and sugar, have a crumbly texture that later become tender once matured. When I say matured, I mean when the cookies get to rest for a few hours.
My cookie dough looks dry.
When you are initially mixing together the flour and butter, the dough will seem dry. But don't worry. I promise it'll come together. Just keep mixing the dough a tad longer until the dough becomes larger clumps. Afterward, with your hands, fold the dough onto itself until it become one cohesive mound.
Do I need to chill the dough.
Yes and no. If you are stamping these cookies or don't want the cookies to spread, I highly recommend chilling the cookie dough for about 30 minutes to 1 hour, or even oven night, after you're cut and shaped your dough.
I also recommend to be completely finished with the dough before chilling the cookies, because the dough will become really hard to work with once cold.
Can I substitute the butter for other options?
Absolutely. Even though traditionally, shortbread cookies are made of butter, you can totally sub it for margarine, vegan butter, coconut oil (solid form), etc.
Cream together the butter and ground chrysanthemum first.
To help infuse the light flavor chrysanthemum better, I recommend that the ground chrysanthemum be creamed together with the butter before sugar is added.
What is the difference between sugar cookies and shortbread cookies?
Both cookies are very similar minus the fact that sugar cookies use less butter but require an addition of eggs. If you compare recipes, you'll see that shortbread cookies contain a higher ratio of butter to flour since there are no other moist content added. This also give shortbread cookies their iconic crumbly texture and buttery flavor.
Roll the cookie dough between two sheets of parchment paper.
I don't really care to clean up huge messes, and I'm sure you're not a fan either. My trick to avoid having to clean a ton when making cookies like shortbread cookies, sugar cookies, and etc. is to roll them between two sheets of parchment paper. It keeps my table clean, no sticking to my rolling pin, no need for extra flour dusting (usually), and easily portable.
Tips for stamping these honey chrysanthemum shortbread cookies:
If you're like us and fell in love with Nordic Ware's cookie stamps, here's a few tricks to make the stamping stress free:
Make sure to lightly oil the stamps for the first few cookies.

We tried stamping the cookies without oiling the stamps. I would not recommend it at all. So make sure to give the stamps a very light layer of oil before stamping the first few cookies.

Ball up 2 cookie scoop portions of dough.

We found that about 3 tablespoon or about 2 regular size cookie scoops of dough is the perfect amount. It properly stamps the cookies and make them ¼ inch thick.

Stamp with even pressure.

If leveled cookies and clear prints are what you're looking for, make sure to stamp with even pressure.

Gently peel all the way around the stamp.

More than likely, the cookies will not be peeling off the stamps themselves, but no worries! Simply go around edge the entire cookie and gently peel the edges away from the stamp. The cookies should peel off easily after that.
Trim the edges. It is really up to your personal preference if you want to trim away edges of the cookies. They had a nice rustic look, but we were going for a clean cut edge. So we trimmed away the rough edges of the cookies with a

3 inch circle cookie cutter

after stamping.
Other ways to shape these honey chrysanthemum shortbread cookies:
One of my favorite alternative ways to shape these shortbread cookies is to roll the entire dough (or in portions) into ¼ inch thick sheet. Then using cookie cutters, cut out the cookies to your preference.
Another way to shape is simply roll the entire dough into ¼ inch rectangle sheet then hand cutting the cookies into squares or rectangles.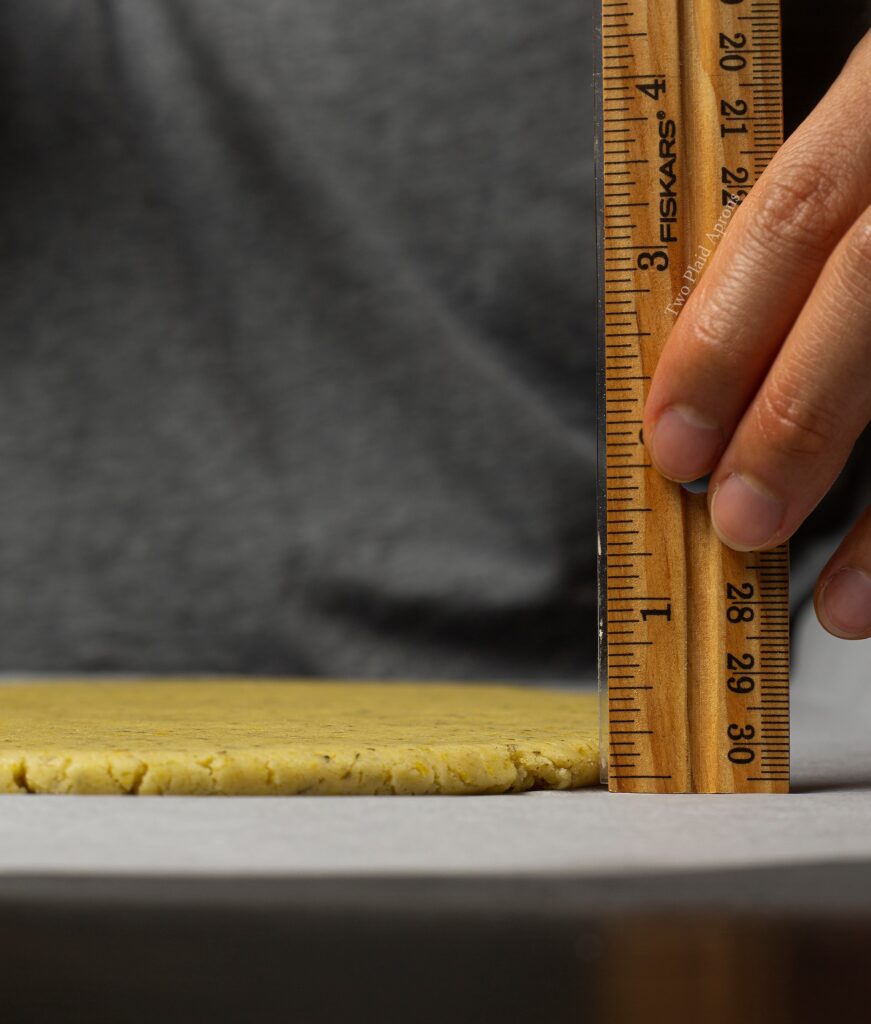 Don't you ever wish that rulers don't have that extra mil and a half of gap in the beginning? It bothers me so much lol.
My last method of shaping these cookies is also my lazy way. 😆 All you have to do is scoop the dough with a cookie scoop and flatten it with your palm or fingers to ¼ inch thick. This is probably my favorite way for any cookies when I feel lazy, lol.
What are other ways of decorating my shortbread cookies besides stamping?
The easiest way to decorate these shortbread cookies is to brush the tops with some egg white wash then sprinkling on some white decor sugar. The egg white wash will give the cookies some shine without additional colors and adhere sprinkles to the cookies.
To make egg white wash, simply whisk together an egg white and about ½ to 1 tablespoon of water until combined.
But to me, these cookies are amazing even without any other decorations.😊
Bake with love!
Mei ❤️
If you've made this recipe or any recipe from our blog, please tag us on Instagram @twoplaidparons! We would love to see your creations! It absolutely makes our day! 🥰
📖 Recipe
Honey Chrysanthemum Shortbread Cookies
These honey chrysanthemum shortbread cookies are tender and buttery and tastes of mild honey and fragrant chrysanthemum. It's perfect for an afternoon tea or a sweet gift for your friends, family, or neighbor!
Instructions
In a large mixing bowl, cream together softened butter and the ground chrysanthemum until the butter is light and fluffy, 1-2 minutes.

Add the sugar, honey, and salt to the butter and blend together until completely incorporated and evenly distributed.

Mix the flour into the creamed butter until the dough comes together but still crumbly.

Fold the dough onto itself a few times to compact it into one cohesive dough.

*The dough will look dry at first but don't worry!*

Roll together 2 cookie scoops worth of dough into a ball.

Very lightly brush the cookie stamps, and with even pressure, stamp the dough to about ¼ inch thickness. Gently remove the stamp from the dough and using a 3 inch circle cutter, trim away the excess cookie dough.

Repeat with the remaining dough and make sure to place the cookies about an inch apart on a parchment lined sheet pan.

*If you do not wish to stamp your cookies, you can either portion and flatten the cookie dough to about ¼ inch thick or roll the entire dough to ¼ inch thick then cut the cookie dough to your desired shapes.*

Once the cookie doughs have been shaped and trimmed, place them in the fridge and let them chill for 30 minutes to an hour, or overnight.

*If you are chilling the dough overnight, I recommend wrapping the sheet pan to keep the cookies tender after baking.*

Preheat oven to 325°F then bake the cookies for about 14-16 minutes until the cookies have puffed up in the center and the edges are golden brown.

Remove the cookies from the oven and let them cool completely. The cookies will harden once they are cooled

Enjoy with a nice cup of tea!
Nutrition
Calories:
213
kcal
|
Carbohydrates:
26
g
|
Protein:
2
g
|
Fat:
12
g
|
Saturated Fat:
7
g
|
Cholesterol:
31
mg
|
Sodium:
75
mg
|
Potassium:
27
mg
|
Fiber:
1
g
|
Sugar:
11
g
|
Vitamin A:
355
IU
|
Calcium:
6
mg
|
Iron:
1
mg
Keywords:
chewy chocolate chip cookies, chrysanthemum cookies, honey chrysanthemum, honey cookies, shortbread cookies, tea snack