Crispy on the outside and chewy on the inside, these cranberry chocolate oatmeal cookies are scattered with tangy dry cranberries and rich chocolate chips, full of chewy oatmeal, and just a hint of sweet cinnamon.
I absolutely love, love, love some soft and chewy chocolate chip cookies, but I think I just found a new favorite! These cranberry chocolate oatmeal cookies are literally to die for! I'm serious. I've fallen hard for these oatmeal cookies. And once you've had them, you'll love them just as much! 😋
Not convinced? Let me give you a quick description to change your mind:
Starting from the first bite, they're perfectly crispy on the outside and chewy on the inside, just like how you'd expect good oatmeal cookies to be. Next, you get a tang from the cranberries that immediately gets balanced out by the sweet aroma of the cinnamon. You then finish with a surprising speck of saltiness that completes the rich and silky chocolate chips that's got you wanting a second bite.
Yup, that's how I got hooked, and I don't regret. 😁 Oh, and did I mention that these oatmeal cookies are AMAZING with a glass of milk? It's like eating an oatmeal cookie version of Cinnamon Toast Crunch.
So does that mean that we can now eat cookies for breakfast without guilt?? Yeah? Let us know what you think!
Let's not delay this any longer so that you can experience this goodness as well!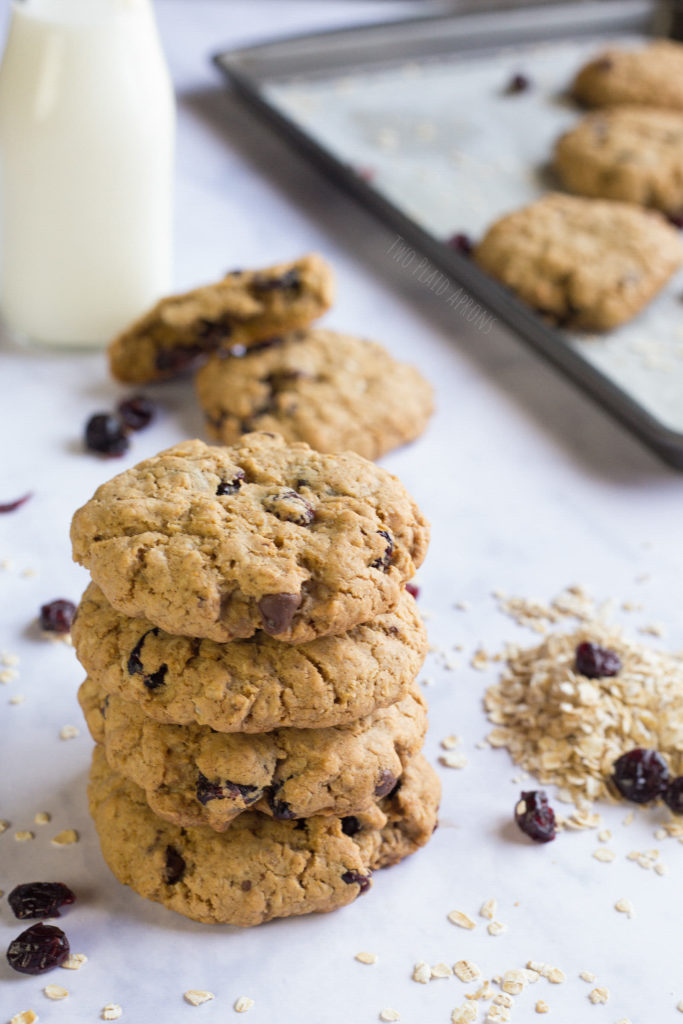 Let's dig into some tips and FAQs to making these amazing cranberry chocolate oatmeal cookies!
Should I use quick oats or old fashion oats for oatmeal cookies? And what's the difference?
You can use either quick or old fashion oats! The difference between the two is simply that quick oats are rolled and also cut into smaller pieces while old fashion oats are only rolled. So if you want an even chewier oatmeal cookie, use old fashion!
Do I have to use cranberries and chocolate chips?
Absolutely not! You are more than welcomed to change up the added ingredients like chocolate chips and dried cranberries. Sometimes I like mine with chopped pecans instead of chocolate. Other times, I prefer white chocolate instead of dark chocolate. It really all depends on my mood and what I have in the pantry.
I do want to note that I like cranberries because they lend a nice tang to the sweet cookies where as other dried fruits like raisins would not. But hey, if that's what's going to help the cookies win your heart, by all means! 😉
Do I need brown sugar for oatmeal cookies?
In my opinion, yes. The brown sugar not only gives the cookies a warmer, darker color, it also gives the cookies a deeper flavor and helps with keeping the cookies moist. However, if you are at home without brown sugar, regular white sugar will be fine, or try making your own homemade brown sugar if you've got molasses in your pantry.
Why melted butter?
Because it makes life easier! Haha this is one of those personal flaws that I made positive. Ever since I discovered that I can make cookies just as good with melted butter instead of creaming softened butter with sugar, I've been sticking to melted butter. Plus, melted butter makes cookie making hassle free and makes your cookies chewy. Just the way I like them.
Do I have to let my cookie dough rest?
No, not at all, and that's the best part! Why wait for your cookies when you can bake and have it in front of you in 20 minutes or less? You can literally make them for breakfast if you wanted to!
However, if you want, you can make the dough ahead of time or overnight so that they're ready to be baked whenever you want. If you are baking straight from the fridge, I do recommend increasing the bake time by about 5 minutes. But if you have time, you can just let the cookies sit at room temperature for about 10-15 minutes before baking to temper them.
Why do I have to flatten the cookie dough?
Because these cookies don't really spread that much, flattening to about 1 inch thick disc will help them bake evenly and be more cookie shaped than a tall mound.
Take two full cookie scoops of dough and roll them into one ball.
Just tap, tap, tap on each ball of cookie dough to about 1 inch thick.
Tadaa! It looks sooo good! 🤤
Bake with love!
Mei ❤️
If you made this recipe or any recipe from our blog, please tag us on Instagram @twoplaidparons! We would love to see your creations! It absolutely makes our day! 🥰
📖 Recipe
Cranberry Chocolate Oatmeal Cookies
These oatmeal cookies are super easy to make, perfectly chewy and crispy, and well balanced with cranberry tang, sweet cinnamon, and rich chocolate chips hidden here and there.
Instructions
Preheat oven to 350°F. Prepare sheet pans lined with parchment.

Whisk together flour, cinnamon, baking soda, and salt. Mix in quick oats, dried cranberries, and chocolate chips. Set aside.

In a large bowl, whisk together regular and brown sugar, melted butter, and egg until emulsified.

Add the dry ingredients to the wet and fold everything together just until no more dry flour is visible.

*The dough may seem a little dry at the beginning, but I promise it's not dry. Just mix it a touch longer.*

Using a cookie scoop, scoop two portions of cookie dough and roll them together into a ball. Place it on the lined sheet pan and repeat with the rest of the cookie dough.

Once all the dough has been balled up, use your fingers and flatten all them to about 1 inch discs.

Bake the cookies for about 13-15 minutes until the cookies are slightly golden brown, the edges feel solid, while the middles are still soft.

Remove from the oven and let them cool for a few minutes.

Enjoy the cookies with a glass of milk!
Notes
This cookie recipe is quite flexible in terms of the additional ingredients, toppings I like to call them. You can switch out the chocolate chips for white chocolate or chopped nuts, use less chocolate or none, substitute the dried cranberries for raisins instead. So feel free to add your own touch!

The cranberries does lend a nice tang, so do keep that in mind if you're substituting it for other dry fruits.
Nutrition
Calories:
281
kcal
|
Carbohydrates:
45
g
|
Protein:
4
g
|
Fat:
11
g
|
Saturated Fat:
6
g
|
Cholesterol:
37
mg
|
Sodium:
169
mg
|
Potassium:
77
mg
|
Fiber:
2
g
|
Sugar:
24
g
|
Vitamin A:
285
IU
|
Calcium:
28
mg
|
Iron:
1
mg
Keywords:
chewy cookies, cookies, cranberry, cranberry oatmeal, oatmeal cookies