Korean seaweed soup, aka miyeok guk (미역국), is a simple, light, but nutritious soup that can be enjoyed as an everyday soup and as part of birthday celebrations in Korean culture.
Is there a birthday dish/ food in your culture that's a must have for birthdays?
For Chinese birthdays, it's common to eat a bowl of longevity noodles with a boiled egg, as it is a tradition to eat seaweed soup, aka miyeok guk, for birthday in Korean culture.
Today, we're sharing a simple and super nutritious miyeok guk recipe using ground beef. It's perfect for as an everyday, nutritious meal and also suitable as the Korean birthday soup.
Korean birthday soup
If you've watched Korean dramas, chances are, you've seen miyeok guk served on a birthday.
Why is that?
Seaweed soup, being abundant in nutrition, is a popular dish, in Korean, served to women who had just given birth. It is said that the soup helps promote faster recovery and preparing mothers for breastfeeding. Because of the association to childbirth, now miyeok guk is also served on birthdays to honor mothers who's brought life to the world.
If you'd like to read more about the history of miyeok guk or its nutritional properties and health benefits, Korea.net wrote a short, sweet article about it.
Variations of Korean seaweed soup
Most commonly, you'll find Korean seaweed soup made with beef, and amongst the different cuts of beef, sirloins and brisket are the most popular choice. Our seaweed soup recipe today is made with ground beef, a less popular choice, but still delivers all of the flavors at a lower cost. In addition, we always have ground beef in our fridge or freezer for days we don't want to plan what to cook or when we just feel like having bibimbap or a good bowl of spaghetti.
The other variations of miyeok guk sometimes features different cuts of pork or other meats and sometimes seafood, especially near the coastal regions of Korea. But ultimately, whether you're enjoying the seaweed soup with beef, seafood, or other meats, the star will always be the seaweed. So make sure to use good miyeok for the soup!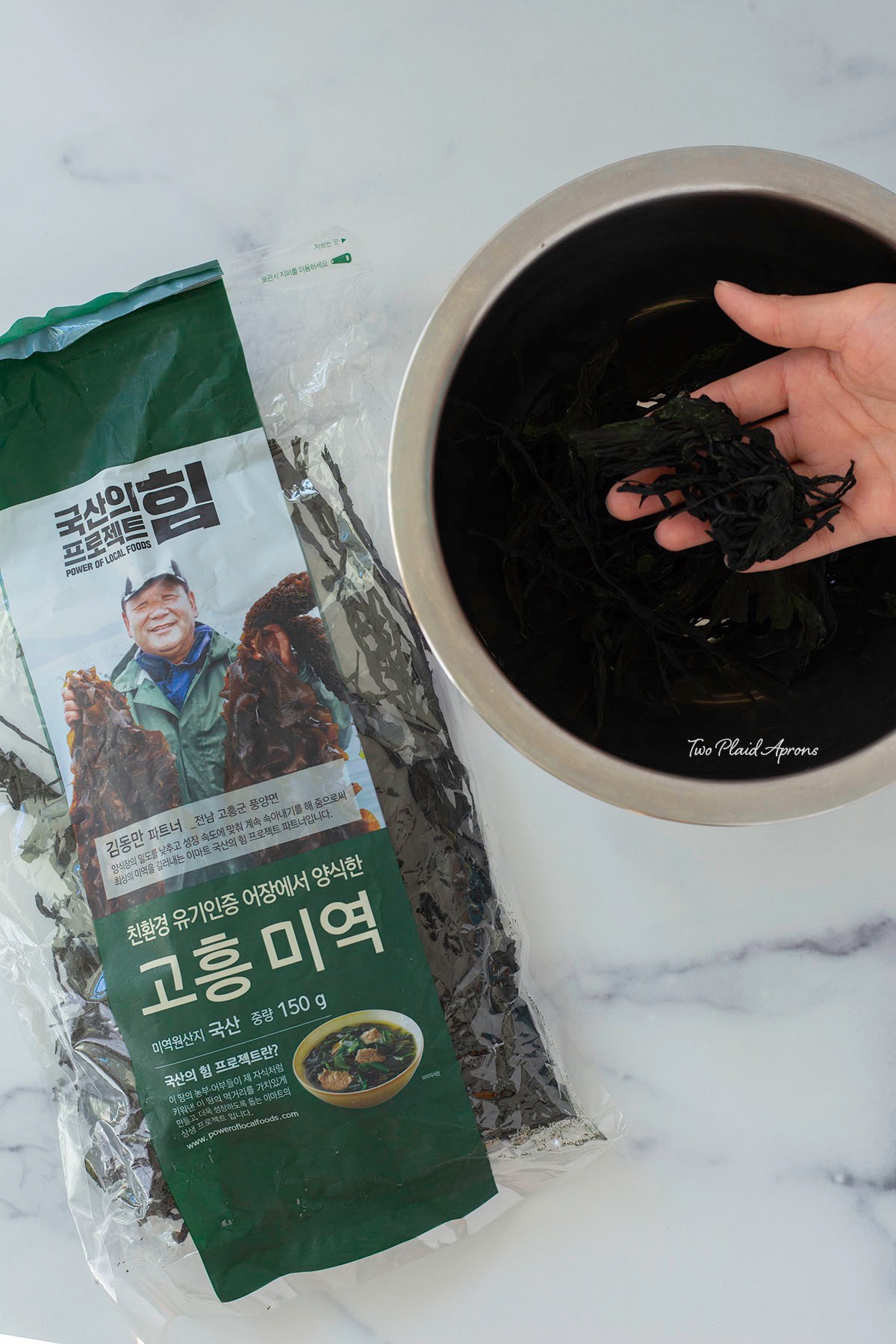 Use the right seaweed
Korean seaweed soup is usually made with sea mustard, scientifically known as Undaria pinnatifida. It is also known as Japanese wakame and usually sold in the dry aisles along with jujube, herbs, dried vegetables. Sometimes you can purchase the seaweed precut into smaller pieces, but it wouldn't be uncommon to find the seaweed in large clumps. Also, despite miyeok being known as brown seaweed, it is actually quite green after rehydrating.
Do not confuse this with kelp or seaweed snacks. Dry kelp are usually sold in large, flat pieces and becomes quite thick after rehydrating. Seaweed snacks are very thin and usually toasted and pre-salted, which is not meant for soup making. If in any doubt, look for Korean brand seaweed pictures of miyeok guk on the packaging.
Miyeok guk storage
If you have any miyeok guk leftovers, you can store it in the fridge up to 1 week or in the freezer for up to 1 month. I highly suggest portioning the seaweed soup into smaller servings so that you only have to reheat the soup once.
Happy cooking!
Mei
If you've made this recipe or any recipes from our blog, please tag us on Instagram using #twoplaidaprons! You can also tag us in your Instagram stories using @two_plaid_aprons. We would love to see your creations! It absolutely makes our day! 🥰
📖 Recipe
Korean Seaweed Soup (Miyeok Guk)
Korean seaweed soup, aka miyeok guk (미역국), is a simple, light, but nutritious soup that can be enjoyed as an everyday soup and as part of birthday celebrations in Korean culture.
Ingredients
0.7

ounce

dry miyeok

, aka Japanese wakame (about 21 gram)

1

pound

ground beef

, thinly sliced brisket or sirloin is great too (about 454g)

3

cloves

garlic

, minced

2

Tablespooon

soy sauce

, you can use soy sauce soup base or 1 tablespoon fish sauce

1

Tablespoon

toasted sesame oil

8

cup

water

Kosher salt

, to taste
Instructions
Place the dry seaweed (miyeok) in a bowl of water and let it soak for about 10 minutes, or until the seaweed is rehydrated. If needed, cut the seaweed into smaller pieces so that it's easier to eat.

In a medium saucepan over medium high heat, add sesame oil and the ground beef. Cook the ground beef until it's lightly browned. Make sure to break up the ground beef in the process. Add the minced garlic and soy sauce and cook for another minute.

Add the water and the rehydrated seaweed and bring the soup to a boil. Reduce the heat to keep the soup at a high simmer. Place a lid on the saucepan and let the soup simmer for 20 to 30 minutes.

Finish seasoning the soup with some salt to taste and serve immediately with steamed rice and banchan.
Notes
The most popular and common choice of miyeok-guk with beef is made with sirloin and brisket. Our version is made with ground beef, which still delivers great flavors and is something we always have in our fridge or freezer. But if you prefer, feel free to switch out of the ground beef for sliced of sirloin or brisket.
Nutrition
Calories:
303
kcal
|
Carbohydrates:
1
g
|
Protein:
20
g
|
Fat:
24
g
|
Saturated Fat:
9
g
|
Polyunsaturated Fat:
1
g
|
Monounsaturated Fat:
10
g
|
Trans Fat:
1
g
|
Cholesterol:
81
mg
|
Sodium:
140
mg
|
Potassium:
321
mg
|
Vitamin A:
6
IU
|
Vitamin C:
1
mg
|
Calcium:
47
mg
|
Iron:
2
mg
Keywords:
birthday soup, miyeok, seaweed soup