These pumpkin mochi muffins are dairy free but still tastes every bit like fall and pumpkin pie in mochi muffin form! They're slightly crispy on the outside and perfectly chewy on the inside with hints of pumpkin spice throughout.
Fall is upon us and the leaves are turning orange! Doesn't that make you want to whip up some fall or pumpkin spice goodies? We were craving our black sesame mochi muffins, but thought this would be the perfect chance to make it pumpkin flavored instead. So here's to pumpkin spiced pumpkin mochi muffins! Plus, these are dairy free and gluten free!
What makes these pumpkin mochi muffins dairy free?
Classic butter mochi muffins are usually loaded with butter to achieve that buttery, soft mochi texture. On the other hand, these pumpkin mochi muffins are made with oat milk and a small amount of oil, so no dairy, such as cow's milk or butter is required. You are welcomed to substitute the oat milk for your preferred dairy substitute like almond milk, soy, or even coconut milk. As for the oil, feel free to use any neutral oil or even coconut oil. However, if you are blessed and is dairy tolerant, you can totally substitute the oil for melted butter and oat milk for regular milk. We've tried many substitutions and so far, none have disappointed us!
Use glutinous rice flour
A very important ingredient that makes these pumpkin mochi muffins what they are, is glutinous rice flour. Do not confuse it with regular rice flour! Glutinous rice flour is made of glutinous rice, also known as sweet rice. It creates your classic sticky mochi texture that's nice and chewy, even after when it has cooled. Regular rice flour, on the other hand, is not sticky and usually used as a wheat flour substitute or used in savory recipes, such as cheung fen (肠粉), aka steamed rice noodle rolls. You'll also see regular rice flour being used together with glutinous rice flour to help balance out the sticky, chewiness and to give the end product tenderness.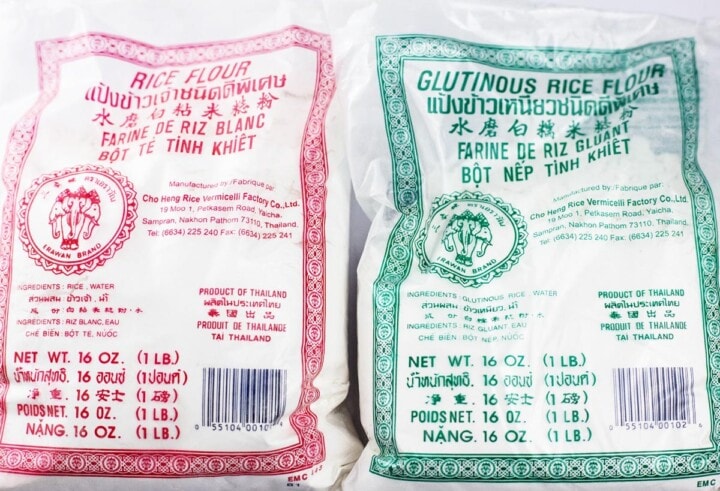 Homemade vs can pumpkin puree
Most of the time, both Kyong and I are the biggest supporters of making everything completely from scratch. But sometimes, canned products tastes good and are just soooo convenient to use. Can pumpkin puree is definitely one of them, lol. If you happen to have a pumpkin, acorn squash, or kabocha squash around at home, feel free to steam it until tender and blend it into a puree! It'll taste amazing! But if you are using the can pumpkin puree like us, make sure to purchase the ones labeled 100% pumpkin puree, NOT the pumpkin pie filling!
Make your own pumpkin spice!
To be very honest, we only get a craving for pumpkin spiced things when fall is coming along or when it's classic pumpkin pie baking time. Unfortunately, when we lived in Louisiana, fall usually only last like one week. So, needless to say, our pumpkin spice hardly get used up or ends up getting tossed. If you're like us and have lots of spices laying around, start making your own pumpkin spice! We make ours in small quantities when we need it so that the spices stay fresh. Also, remember, pumpkin spice has quite a prominent aroma and flavor. We added just enough pumpkin spice to our pumpkin mochi muffins to remind you of pumpkin pies and fall, but if you'd like a fuller spice flavor, start by adding ¼ to ½ teaspoon more pumpkin spice.
For our small quantity pumpkin pie spice, combine:
2 teaspoons of ground cinnamon
1 teaspoon of ground ginger
¼ teaspoon of nutmeg
⅛ teaspoon of clove or allspice
Get YOUR perfect mochi texture
Although there is always a standard of "how" any dish or food "should" be, it doesn't mean that you can't tailor a recipe to your preference. Particularly for these pumpkin mochi muffins, Kyong and I couldn't settle on the perfect texture. Personally, I prefer a chewier mochi, while Kyong likes both the chewier ones and the more tender ones. So here's the secret to achieve either!
If you prefer a chewier mochi texture, keep the pumpkin mochi muffin batter on the thicker side. The recipe we have is for the chewier mochi texture. It'll also create taller, airer mochi muffins. If you prefer more tender mochi muffins, you'll have to add more liquid to the batter. In our case, it would be more oat milk, or your preferred dairy substitute or cow's milk. Increase the milk from ¼ cup to ⅓ cup. This will give you flatter mochi muffins that'll also be denser but more tender.
Mochi muffin storage
These mochi muffins can be enjoyed after 10 to 20 minutes after cooling, but the texture will be on the softer side. We like to eat ours once the mochi muffins have completely cooled. This will give the muffins a chewier texture and fuller flavors. If you end up with leftovers, these pumpkin mochi muffins are absolutely delish with a cup of hot coffee. To store the mochi muffins, simply keep them in an airtight container for up to 3 days, or in the fridge for up to 1 week. If refrigerating, microwave the mochi muffins for about 10 second, until warm, for best texture.
If you're looking for more fall treats, you may like these:
Bake with love!
Mei ❤️
If you've made this recipe or any recipes from our blog, please tag us on Instagram using #twoplaidaprons! You can also tag us in your Instagram stories using @two_plaid_aprons. We would love to see your creations! It absolutely makes our day! 🥰
📖 Recipe
Pumpkin Mochi Muffins (Dairy Free)
These pumpkin mochi muffins are dairy free but still tastes every bit like fall and pumpkin pie in mochi muffin form! They're slightly crispy on the outside and perfectly chewy on the inside with hints of pumpkin spice throughout.
Ingredients
½

cup

brown sugar

, packed (light or dark; about 100g)

½

cup

pumpkin puree

, leveled (about 115g/ 4oz)

1

large egg

2

Tablespoon

neutral oil

(about 20g)

1

teaspoon

pumpkin spice

¼

teaspoon

Kosher salt

¼

cup

oat milk

, or your preferred milk substitute (about 56g)

1

cup

glutinous rice flour

, packed & leveled (about 110g)

1

teaspoon

baking powder

Roasted pumpkin seeds

, optional for garnish (or pepita seeds)
Instructions
Preheat the oven to 325°F and grease 6 cavities of a nonstick cupcake pan with a neutral oil or nonstick spray.

Add everything except for the rice flour, baking powder, and pumpkin seeds into a mixing bowl. Whisk until the mixture is well combined. Add the rice flour and baking powder and whisk until the batter is smooth.

Evenly fill the 6 greased cavities with the mochi muffin batter. Each one should be no less than 2 millimeter from the rim. Garnish with roasted pumpkin seeds.

Bake the pumpkin mochi muffins for about 40 to 50 minutes or until a toothpick inserted through the middle of a muffin comes out clean.

Let the muffins cool for about 10 minutes before removing from the cupcake pan. Enjoy warm or let the muffins cool completely for a firmer, chewier texture!
Notes
This pumpkin mochi muffin recipe is great for multiplying, so feel free to double the recipe to make a dozen!
If you are using canned pumpkin puree like we did, make sure to grab just the pumpkin puree NOT the pumpkin pie filling.
If you're out of pumpkin spice but have lots of spices at home, make your own spice mix! Also, we used just enough pumpkin spice in these mochi muffins to remind you of pumpkin pie, but if you'd like more pumpkin spice flavor, start by adding ¼ to ½ teaspoon of pumpkin spice.

Our go to small quantity ratio: 2 teaspoon cinnamon, 1 teaspoon ginger, ¼ teaspoon nutmeg, and ⅛ teaspoon cloves or allspice. This makes a little more than 3 teaspoons of pumpkin spice.
Nutrition
Calories:
233
kcal
|
Carbohydrates:
43
g
|
Protein:
3
g
|
Fat:
6
g
|
Saturated Fat:
1
g
|
Polyunsaturated Fat:
2
g
|
Monounsaturated Fat:
3
g
|
Cholesterol:
27
mg
|
Sodium:
119
mg
|
Potassium:
171
mg
|
Fiber:
1
g
|
Sugar:
19
g
|
Vitamin A:
3238
IU
|
Vitamin C:
1
mg
|
Calcium:
73
mg
|
Iron:
1
mg
Keywords:
fall pastries, mochi muffin, pumpkin spice