These Ube Mochi with Black Sesame Filling are so delightfully chewy while also marshmallowy soft! The black sesame filling is nutty, fragrant, gooey, and just sweet enough to perfectly pair with the ube mochi! They are sooo good and the perfect size snacks.
When I was a kid, my mom would feed me tons on black sesame "things" from black sesame drinks to black sesame glutinous rice ball soups. It's a surprise I've haven't gotten tired of it, haha. 😆  In fact, I'd still dive into black sesame anything in a heartbeat.
This ube mochi with black sesame filling is sort of an inspiration from my child hood. Rich, fragrant, gooey, and nutty black sesame filling. Chewy, soft ube mochi...yummmm!
Now, let's dive into some ube mochi and black sesame filling tips and FAQs!
What is mochi and what does it taste like?
Mochi is a Japanese rice flour pastry that can be eaten savory or sweet. It's one of those foods that have a very unique texture that's both satisfyingly gummy and chewy but also marshmallowy and soft. They are lightly sweetened and often times has a slight starchy aftertaste.
What are mochi filled with?
Traditionally, mochi is filled with anko or red bean paste. Nowadays, you can find mochi in almost any flavor. The most popular ones being mochi ice creams with an assortment of flavor from banana to green tea and taro! You can also find ones layered with red bean paste and stuffed with fruits, like strawberries or clementines. Then you have mochi like ours, ube mochi filled with black sesame filling.
Do I have to use glutinous rice flour for mochi?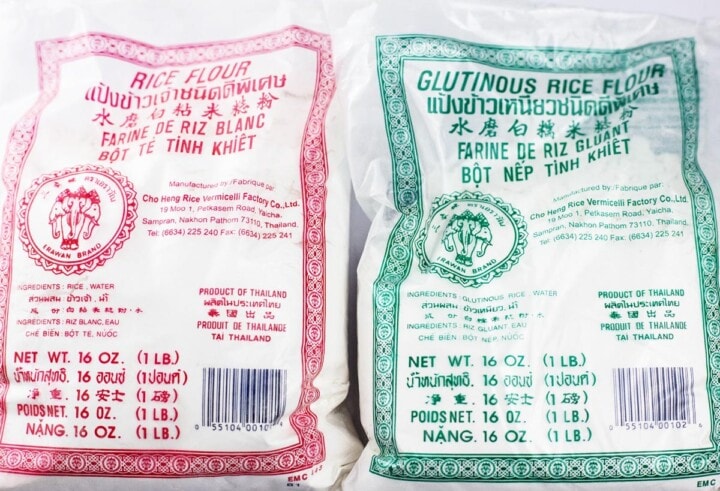 If you use this brand of rice flour, make sure you grab the green one that says "glutinous rice flour"!
Yes and no. Yes, you must use glutinous rice flour, and no, you are not limited to only using rice flour. There are a few other options out there that makes really good mochi. I've only made mochi with glutinous rice flour since that's all I have available. But I've read from plenty other recipes that highly recommend sweet rice flour like Mochiko and Shiratamako for making mochi.
From my research, you should be able to substitute Mochiko for the glutinous rice flour as is. However, if you to use Shiratamako, you'll have to increase the amount of water used. Shiratamako are course pieces of sweet rice starch that'll absorb more water than powdered rice flour. If you're interested in more information about Mochiko and Shiratamako, I highly recommend giving Just One Cookbook a visit. Nami, the blog's author, has an amazing collection of Japanese recipes and Japanese pantry recommendations.
2 ways to cook mochi:
The first way to cook mochi is the traditional way and my favorite, if I have time. Simply steam the bowl of mochi batter for about 15-20 minutes until the mochi turns kind of translucent and vibrant in color. If you stick a chopstick through the center of the mochi, it should come out clean.
The second way of cooking mochi is by microwaving! It is very convenient when you're short on time or sometimes just too impatient to wait...like me. For this method, make sure the mochi batter is in a microwavable bowl and that you cover it with plastic wrap. Poke a few holes in the plastic wrap and microwave the mochi batter on high power for about 2 minutes, or until the mochi turns kind of translucent and becomes brighter and vibrant in color.
How do I know if my mochi is cooked?
When mochi is cooked, it should look translucent compared to the raw dough/ batter. If the mochi is colored, the color will also become more vibrant and bright. The texture of the dough will be very bouncy and tacky. You can also test the mochi by poking it in the center with a chopstick. If the mochi is cooked through, the chopstick should come out clean.
How do I keep my mochi soft?
There are a couple of factors that determine how long mochi can stay soft for. First, it's the amount of sugar you use. The more sugar added to the dough, the longer your mochi will stay soft. The second factor is how loose you make the mochi batter. The more water or liquid added to your mochi batter, the softer your mochi will be. However, making your dough too soft may not be favorable when it comes time to shape your mochi.
Work with your mochi when it's hot
One of the number one mistakes when we first started testing this ube mochi recipe was not working with the mochi dough when they were hot and pliable. Once the mochi cools down, it becomes quite difficult to stretch or roll out. So save yourself the difficulties and try to work with the mochi dough when they're hot. But do let the mochi dough cool slightly until they are a bit more comfortable to handle, because they are HOT.
Use cornstarch to dust your mochi
If you've ever worked or eaten mochi, you know its sticky nature. So to make the shaping and filling process easier, use cornstarch! You can also use potato starch if you prefer.
After the mochi is cooked through:
Transfer the hot mochi dough onto a

sheet pan

generously dusted with cornstarch. Also dust the top of the mochi with cornstarch.
Cover your hands with cornstarch and pinch off a 2 inch ball of mochi. You want to actually pinch the mochi dough rather than tearing because tearing expose more mochi without the cornstarch dusting. This will create a sticky mess, so pinch not tear!
Stretch the dough, as evenly as possible into ¼ inch thickness. With a

pastry brush

, brush off all the excess cornstarch on both sides and place a pre-scooped ball of the black sesame filling in the center.
Pinch together the edges to seal the black sesame filling and repeat with the rest of the mochi.
If you want to adhere anything to the outsides of these mochi, just dampen the spot with some water and stick on your garnish.
Can I substitute the sugar in my black sesame filling?
Absolutely! You are welcomed to substitute the sugar in the black sesame filling recipe to your preferred sweetener. The only thing you may need to look out for is if you're using a liquid sweetener. If you're substituting the sugar for a liquid sweetener, like honey, you may need to reduce the amount of water used. So adjust accordingly.
Do I need to freeze the black sesame filling?
I highly recommend freezing the black sesame filling to semi-solid then ball it up and freeze it completely before using. Soft filling is no good and will make your mochi game a headache and a mess. Trust me, I've tried and regretted it very much.
How do I store mochi?
Mochi are best eaten the day of, but if you're trying to savor it for a little longer, it won't hurt to store them in an airtight container at room temperature for a couple days. And that's it, 2-3 days max.
Cook with love,
Mei ❤️
If you're looking for other Asian treats and snacks, make sure to check out:
If you've made this recipe or any recipe from our blog, please tag us on Instagram @twoplaidparons! We would love to see your creations! It absolutely makes our day! 🥰
📖 Recipe
Ube Mochi with Black Sesame Filling
These beautiful purple ube mochi are filled with a black sesame filling. The mochi delightfully chewy and the black sesame filling is nutty and gooey.
Ingredients
For the black sesame filling:
½

cup

black sesame seed

(toasted)

¼

cup

granulated sugar

(or less if you prefer the filling less sweet)

3

Tablespoon

unsalted butter, melted

(or coconut oil)

3

Tablespoon

water
Instructions
For the black sesame filling:
Combine all the ingredients into a food processor or blender and blend until everything is pureed. If the paste is still chunky or too thick, you can blend the it with more water, 1 Tablespoon at a time.

Once the black sesame is pureed, transfer it to a shallow pan and freeze until semi solid. Scoop filling with a Tablespoon and roll each into into 1 inch balls. Freeze until needed.
For the mochi:
In a microwavable bowl, mix together the glutinous rice flour, ube powder, and sugar until evenly combined. Add the water and mix until everything is incorporated and the mochi batter is smooth.

Wrap the bowl with plastic wrap and poke a few holes on the plastic. Microwave* the mochi batter for about 2 minutes on high power, or until the mochi turns kind of translucent and brighter in color. You can also test it by poking the center of the mochi with a wet chopstick, and if it comes out clean, it's cooked.

*Alternatively, if you wish, you can steam the mochi batter in a steamer for 15-20 minutes until the mochi is cooked through and looks kind of translucent.*

While the mochi is hot, fold the mochi onto itself a couple of times with a rubber spatula to work in the skin that formed on the surface. Transfer the mochi onto a sheet pan generously dusted with cornstarch and dust the mochi with more cornstarch. Let the mochi cool slightly, just until comfortable enough to handle.

While the mochi is hot and pliable, pinch off a 2 inch ball and flatten it as evenly as possible to about ¼ inch thick. With a pastry brush, brush off the excess cornstarch on both sides of the mochi. Place a pre-balled black sesame filling in the center of the mochi and pinch together the edges to seal the filling.

Place the filled mochi into cupcake liners and repeat with remaining mochi.

You can garnish the mochi with sesame seeds by dampening the outside with some water.

Enjoy!
Notes
Mochi is best eaten the day of, but if you have leftovers, you can store them in airtight containers at room temperature for up to 3 days.
Nutrition
Calories:
298
kcal
|
Carbohydrates:
50
g
|
Protein:
4
g
|
Fat:
9
g
|
Saturated Fat:
4
g
|
Cholesterol:
11
mg
|
Sodium:
41
mg
|
Potassium:
81
mg
|
Fiber:
2
g
|
Sugar:
15
g
|
Vitamin A:
393
IU
|
Calcium:
97
mg
|
Iron:
2
mg
Keywords:
black sesame, mochi