These Korean Fried Chicken Wing Gyozas, inspired by Food Wars, ought to be nominated as the best fried chicken wings ever! These wing gyozas have the perfect crunch, juicy pork filling, and a flavor bomb of a sauce that's sweet, spicy, tangy, and savory. 
This Korean fried chicken wing gyoza recipe has a special place in our hearts. It's the recipe that landed us in the blogging world!
We were watching one of our favorite anime, Food Wars, and came across the episode about wing gyozas, and we were like, "Yassss! How did we not think of that?! It's literally two of our favorite foods combined."
The anime made the wings look so good and appetizing! And not to brag, but I think we did a pretty good job making ours tasty and gram worthy. 😉  But to make the process a little easier along with a little of our own twist, we decided to deep fry the wings and glaze it with some Korean fried chicken wing sauce.
The end product? We get these super crispy chicken wings that stays crispy much longer than traditional fried chicken, even when tossed with sauce. The pork gyoza filling stayed juicy and provided an extra dose of umami. Then the sauce completes the wing gyozas with combinations of sweet, spicy, tangy, and savory. Mhmm, yummm!
Now, let's dive into some tips and FAQs for making Korean Fried Chicken Wing Gyoza!
What's the difference between gyoza and dumplings?
Gyozas and Chinese dumplings are essentially the same thing with some minor differences. One main difference is that gyoza is Japanese and uses a thinner wrapper than Chinese dumplings and the filling is chopped finer. But in terms of execution, flavors, and cooking styles, they are very similar.
Check out our Chinese pork dumpling recipe if you need a trusty pork dumpling filling!
What is gyoza filling made of?
Like Chinese dumplings, gyoza fillings consist mainly of minced/ ground pork and chopped cabbage, but don't limit yourself! You can absolutely add other seasonings, garlic, ginger, and other vegetables to it. Although gyozas with pork filling is the most popular ones, there are other options like chicken or even vegetarian.
What does Korean fried chicken wings taste like?
Korean fried chicken wings have one of the most well-round flavors! The wings are crispy and the sauce is a perfect flavor bomb. It's sweet, tangy, spicy, and savory. And stuffed with our pork dumpling filling, the wings got the last flavor locked in: umami!
Yes! All five flavors in one bite and did I mention? It's super juicy!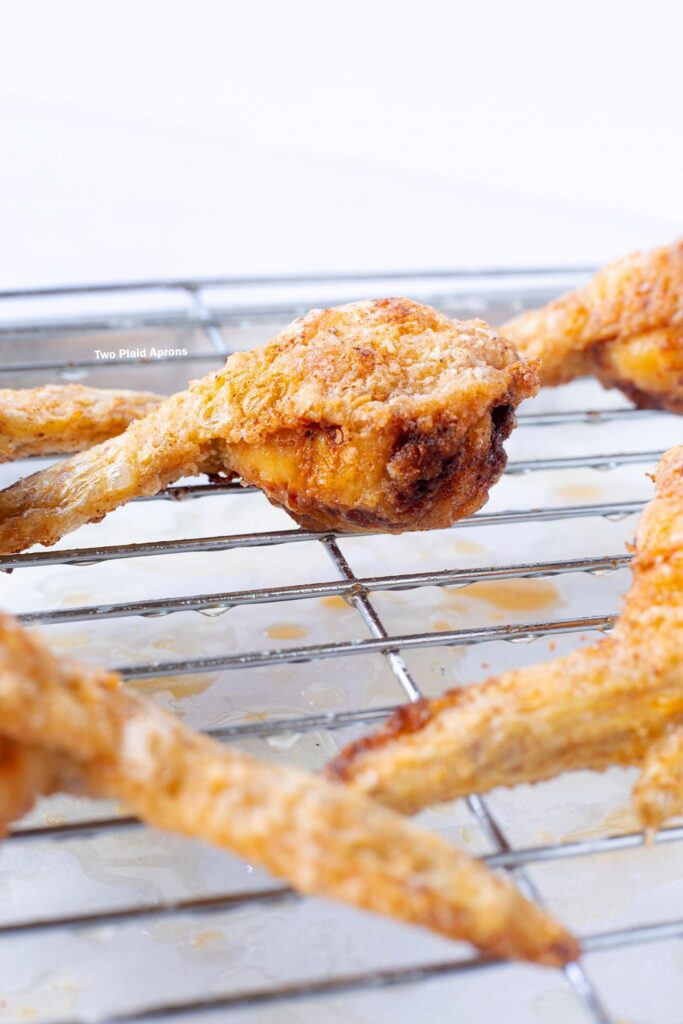 What makes Korean fried chicken wings so crispy?
So you're probably wondering what is all the craze with Korean fried chicken wings and how is it so crispy. Right? Well the secret lies in two things.
Potato Starch- Potato starch fries up really well and will keep whatever you batter it with super crispy for a longer period of time. However, do note that the crispy is not like the typical southern fried chicken crunch. This crisp is very light, almost like potato chips.
Double Frying- Korean fried chicken wings are always double-fried to achieve their extra crispiness. The first fry is done at a lower temperature, usually 350F, to cook the wings. For the second fry, the oil is raised to a higher temperature, around 375F, to achieve the crisp.
Can I substitute potato starch for something else?
Yes! If you are unable to get your hands on some potato starch, you can use cornstarch as a substitute.
In our recipe, we use a combination of potato and cornstarch, but you're welcomed to use either one or the other. They both fry up really well and keep things crispy. However, I do want to mention that, personally, I find potato starch makes a lighter crisp while cornstarch creates a harder crisp.
Use a heavy bottom pot for frying
I highly recommend investing in a heavy bottom pot, like cast irons, for frying. We love our Staub dutch oven and intend on purchasing another one soon! These pots tend to hold heat much better than regular metal pots, and you'll never have to worry about the oil's temperature dropping drastically ever again!
How do you debone wings?
You might think, why would anyone bother to debone wings. Well, for these amazing Korean fried chicken wing gyozas, of course!
To debone wings for these wing gyozas:
Separate the drummettes from the flats of the wings at the joint. You can also purchase the wings with only the flats as well. (You can save the drummettes for something else.)
At the open end of the wing, make incisions around the entire bone to separate the meat from the bone.

Using your fingertips, push the meat down to expose the bones. You will have to use some strength here and maybe use your fingernails to scrape at the bones. You can also use your knife to separate the meat from the bones a bit further to make the deboning process easier.

Pull the meat all the way down to the wing tip. The wing will be inverted inside out. Twist and bend the bone at the joint of the wing tip to dislocate the two bones. Pull the bones off the joint or carefully cut it off.

If you're cutting the bone at the joint, make sure to not damage the chicken skin! The skin is crucial for keeping the dumpling filling from leaking. If you're pulling the bones off, use a sheet of paper towel to help you get a better grip on the slippery bones.
Revert the wing back, and you've got yourself a boneless chicken wing!!!

Can I use the drummettes as well?
For making Korean fried chicken wing gyozas, I don't really recommend using drummettes. We are totally not discriminating! It's just that if drummettes were deboned, they would be open on both ends. Not the best for stuffing for sure. Buuuuuutttt, that doesn't mean you can't toss them in some potato starch, fry them up, and share some of that Korean fried chicken wing sauce!
How much filling can I stuff in my chicken wing?
That really depends on the size of the wings. Our wings can typically hold about a skimp Tablespoon worth of filling. I like my gyozas and dumplings as plump as can be, but I learned my lesson with these chicken wing gyozas that over stuffing is a no-no.
Because these chicken wing gyozas can't be sealed like a regular dumpling or gyoza, the gyoza filling will leak out if overstuffed. And remember, the gyoza filling will also expand as it gets cooked, so save yourself some oil spatter!
If you're looking for other Asian snacks and dishes, you might like:
Cook with love,
Mei ❤️
If you've made this recipe or any recipe from our blog, please tag us on Instagram @two_plaid_aprons! We would love to see your creations! It absolutely makes our day! 🥰
📖 Recipe
Korean Fried Chicken Wing Gyoza: A Food Wars Inspiration
These Korean Fried Chicken Wing Gyozas, inspired by Food Wars, ought to be nominated as the best fried chicken wings ever! These wing gyozas have the perfect crunch, juicy pork filling, and a flavor bomb of a sauce that's sweet, spicy, tangy, and savory. 
Ingredients
For the sauce:
3

cloves

garlic

,minced

2

Tablespoon

ginger

,minced (about 1½ inch knob)

3

Tablespoon

gochujang

(Korean pepper paste)

3

Tablespoon

honey

3

Tablespoon

brown sugar

(light or dark)

3

Tablespoon

rice vinegar

1½

Tablespoon

ketchup

1

Tablespoon

soy sauce

oil
Instructions
For the dredge:
Whisk together all the ingredients in a medium bowl and set aside.
For the sauce:
Mix together all the ingredients for the sauce EXCEPT for the minced ginger and garlic. In a large nonstick pan over medium heat, add a small amount of vegetable oil and sauté the minced ginger and garlic until fragrant. Add the premixed sauce and heat until until it bubbles. Remove from heat and set aside.
For the wings:
Debone the flats of the chicken wings* and stuff the boneless flats with about ½ to 1 Tablespoon of the Chinese pork dumpling filling, depending on the size of the wing. Close the wing's opening and repeat with remaining wings. DON'T overstuff the wings! It'll expand when cooked.

*Please refer to the post above for the full detail instructions with photos on deboning wings!*

Working with a few at a time, gently coat all the wings with the dredge mixture and dust off the excess dredge if needed.

*You can do the dredging in a Ziploc bag if you prefer.*

In a heavy bottom pot, heat 2-3 inches of oil to and maintaining at 325°F for the first fry. Carefully place the dredged wings into the oil and fry them for about 4 minutes. Remove them from the oil.

*Work with portions of the wings at a time, DO NOT overcrowd your pot or your fryer to prevent uneven cooking and a drastic drop in oil temperature.*

For the second fry, heat the oil and maintain it at 375°F. Return the wings to the oil and fry them for about 2-3 minutes, or until the wings starts to turn golden, is crispy and the wings cooked through. Remove from the oil and drain on paper towels.

*Again, work in portions if needed to prevent uneven cooking. DO NOT overcrowd. Overcrowding will result in overcooked wings soggy wings!*

While the wings are draining, reheat the sauce over medium heat until it starts to bubble. Add the wings and toss until the wings are well coated with sauce.

Serve the wings immediately with a sprinkle of sesame seeds and green onions.

Enjoy!
Notes
*If you need a good

pork dumpling filling recipe

, we got you! Either click on the hyperlink or search "Chinese pork dumpling" in our search bar.
Nutrition
Calories:
1403
kcal
|
Carbohydrates:
88
g
|
Protein:
84
g
|
Fat:
78
g
|
Saturated Fat:
25
g
|
Cholesterol:
330
mg
|
Sodium:
1513
mg
|
Potassium:
1581
mg
|
Fiber:
4
g
|
Sugar:
29
g
|
Vitamin A:
494
IU
|
Vitamin C:
9
mg
|
Calcium:
106
mg
|
Iron:
5
mg
Keywords:
Asian fusion, chicken wings, chinese dumplings, Korean chicken wings